A popular restaurant favorite dish, the Peshwari Naan is a sweet naan – stuffed with raisins and pistachios. Serve with a choice of side dish.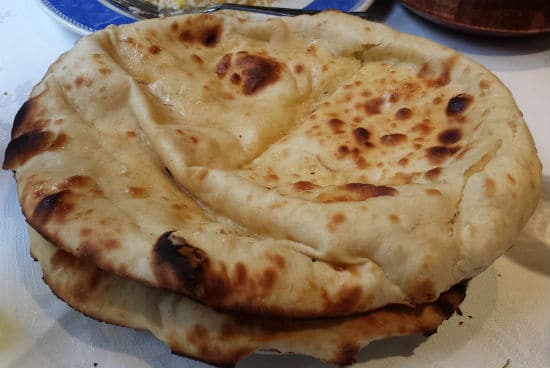 Ingredients:
Plain Flour (Maida) – 100 gms
Dried Yeast – 1/2 tsp
Sugar – 1/2 tsp
Baking Powder – 1/4 tsp
Oil – 1 1/2 tsp
Plain Yogurt – 3 tsp
Milk – 3 tsp
For the filling:
Raisins – 2 tblsp
Pistachios – 2 tblsp, shelled
Caster Sugar (or Brown Sugar) – 3/4 tsp
Method:
1. Mix the yeast and sugar in a bowl.
2. Add 1/2 tblsp of warm water and mix well.
3. Keep aside for 3 to 5 minutes.
4. Mix the flour, salt and baking powder in another bowl.
5. When the yeast mixture is frothy, add to the flour.
6. Add oil, milk and yogurt.
7. Knead well, folding as you go, until it is soft and pliable.
8. Cover the dough with cling film and keep it aside for 1 to 2 hours to rise.
9. After 1 to 2 hours, pinch the dough and make small-medium balls.
10. Grind all the filling ingredients coarsely.
11. Roll out each balls and add 1 tblsp of the filling into the middle.
12. Fold and seal the dough.
13. Carefully roll it again into 1/4 inch thick naan, ensuring the fillings do not spill out.
14. Heat a tawa over medium flame.
15. Place the prepared naans and cook for 2 to 3 minutes until puffed up and browned a bit.
16. Remove and serve with side dish of choice.
Tip: If preferred, smear the naans with butter just before serving.