Paratha is a popular North Indian dish often served for breakfast or dinner. This variation is made with a stuffing of potatoes and fenugreek (methi) leaves. Serve it with curd and pickle or with a preferred side dish.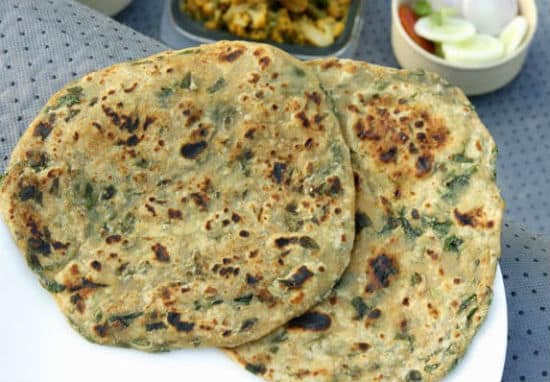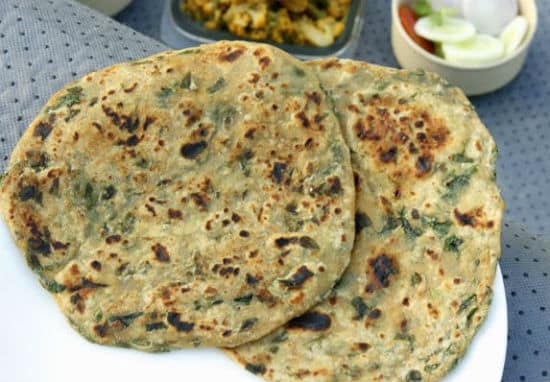 Ingredients:
Methi (Fenugreek) Leaves – 1 bunch, cleaned, washed and chopped
Wheat Flour – 1 cup
Gram Flour – 1 cup
Potatoes – 2, boiled, peeled
Cumin Seeds – 1/2 tsp
Plain Curd – 2 tblsp
Garam Masala Powder – 1/8 tsp
Turmeric Powder – 1/8 tsp
Green Chillies – 1 to 2, finely chopped
Amchur Powder (Dry Mango Powder) – 1/4 tsp
Ghee – 1/2 tblsp
Red Chilli Powder as per taste
Salt as per taste
Method:
1. Heat ghee in a frying pan.
2. Fry the cumin seeds for 20 to 30 seconds.
3. Add the methi leaves, turmeric powder and stir-fry for 2 minutes or until all moisture has evaporated.
4. Transfer to a large bowl.
5. Mash the boiled potatoes.
6. Add salt, garam masala powder, green chillies, red chilli powder and dry mango powder.
7. Mix well.
8. Add this to the methi leaves and mix again.
9. Add the wheat flour, gram flour and curd.
10. Mix well to a chapati dough consistency.
11. Make small balls of the dough and roll them out into small-medium circles.
12. Heat a tawa (flat frying pan) over medium flame.
13. Cook the prepared parathas on both sides, adding little ghee around the edges, until brown spots start to appear and cooked.
14. Remove and serve with curd and pickle.