A variation of the popular and delicious paneer starter/appetizer. Serve with mint chutney and onion salad.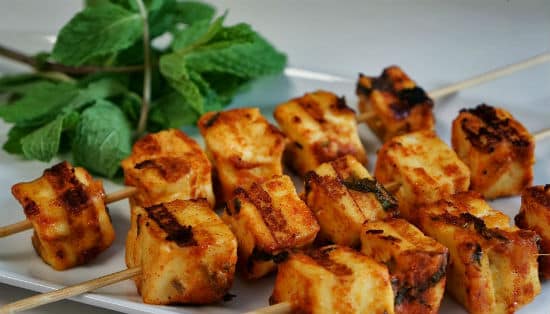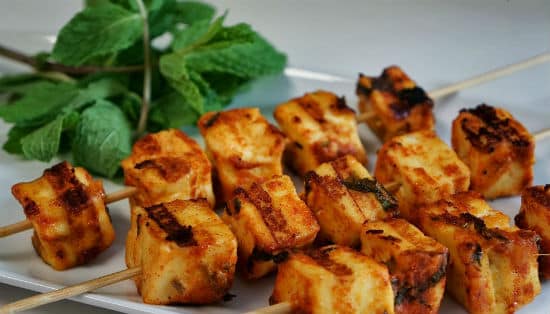 Ingredients:
Paneer – 100 gms, cut into small cubes
Salt – 1/2 tsp
Cumin Powder – 1/2 tsp
Red Chilli Powder – 1/2 tsp
Hung Curd – 1 tblsp
Green Chilli Paste – 1 tsp
Lemon Juice – 1/2 tsp
Mint Chutney to serve
Oil – 2 tsp
Dried Red Chilli Flakes – 1/4 tsp
Dried Red Chillies – 2, whole
Wooden Skewers – 2 to 3, soaked in water for 30 minutes
Optional:
Onion – 1, sliced
Green Capsicum – 1, sliced
Tomato – 1, sliced
Method:
1. Warm the oil in a pan.
2. Add the red chilli flakes and whole red chillies.
3. Heat for 2 to 3 minutes and switch off the flame.
4. When the oil has cooled, discard the whole red chillies and keep aside.
5. Mix the salt, cumin powder, red chilli powder, hung curd, green chilli paste and chilli oil in a bowl.
6. Add the paneer cubes and mix gently.
7. Cover and keep aside for 60 to 90 minutes in the fridge.
8. Heat a grill pan over medium flame.
9. Skewer the paneer cubes and the vegetables (if using). Place them on the pan.
10. Cook until slightly charred at the edges and lightly browned, brushing with oil to prevent the paneer from drying.
11. Remove and transfer to a serving plate.
12. Sprinkle some lemon juice and serve with mint chutney.