Bonda is a very popular South Indian snack/appetizer. This variation uses plain noodles and is equally as tasty as the other versions. Best served with chutney or sauce.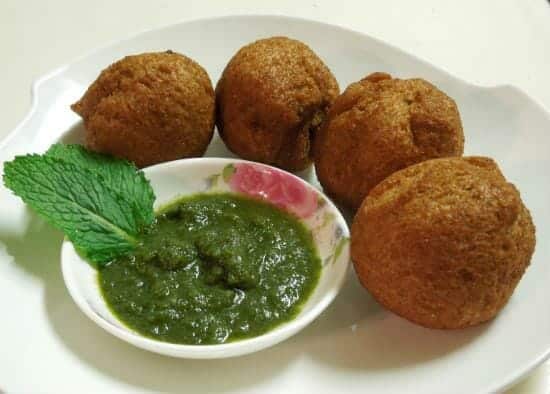 Ingredients:
Plain Noodles – 500 gms, cooked as per packet instructions and lightly mashed
Black Peppercorns – 2 tblsp
Ginger – 2 tblsp, finely chopped
Cumin Seeds – 1 tsp
Onions – 2, chopped
Green Chillies – 4 to 5, chopped
Curry Leaves – few
Curry Powder – 3 tsp
Carrot – 2, small, chopped
Oil as required
Salt as per taste
For the Batter:
Cooking Soda – little
Gram Flour – 200 gms
Curry Powder – 1 tsp
Red Chilli Powder – 1 tsp
Salt as per taste
Method:
1. Heat 2 tblsp of oil in a pan.
2. Fry the peppercorns, cumin seeds and ginger for 45 to 60 seconds.
3. Add the onions, green chillies and curry leaves.
4. Saute for 2 to 3 minutes.
5. Add carrots, salt and turmeric powder.
6. Stir well and add curry powder.
7. Add the noodles and stir again.
8. Remove from flame.
9. When it is cool enough to handle, make small balls of the mixture and keep aside.
10. Mix all the batter ingredients with enough water to a slightly thick but pourable consistency.
11. Heat oil in a deep frying pan.
12. Dip the prepared balls in the batter and carefully add to the hot oil.
13. Deep fry until golden brown.
14. Remove and serve with chutney or sauce of choice.
image via youtube
Subscribe to our Newsletter
Receive the latest recipes & kitchen tips !