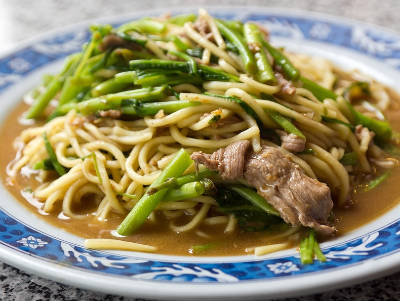 Ingredients:
Mutton – 100 gms, minced
Red Chilli Powder – 1/4 tsp
Garam Masala Powder – 1/2 tsp
Green Chilli Paste – 3/4 tblsp
Tomato Sauce – 1 tblsp
Dark Soy Sauce – 1/2 tblsp
Onion – 1, small, chopped
Green Chilli – 1, small, chopped
Ginger Garlic Paste – 1/2 tblsp
Mutton Curry Powder – 1 tsp
Tomatoes – 2, small, chopped
Cabbage – 100 gms, chopped
Bean Sprouts – 100 gms
Green Peas – 1/3 cup
Noodles – 250 gms, rinsed, drained
Tofu (or Paneer) – 1/4 cup, fried and cubed
Potato – 1/2 cup, peeled, cubed
Egg – 1, beaten with a pinch of salt
Limes – 3, halved
Salt as per taste
Oil – 2 tblsp
Method:
1. Heat a pan over medium flame.
2. Add the mutton, chilli powder, garam masala powder and a pinch of salt.
3. Cook until the mutton pieces are cooked and dry, stirring from time to time. Keep aside.
4. In a small bowl, mix the chilli paste, tomato sauce and soy sauce.
5. Heat oil in a pan.
6. Saute the onions and green chilli for a minute.
7. Add ginger-garlic paste and curry powder.
8. Stir-fry until oil starts to separate.
9. Add the tomatoes and cook for a minute.
10. Add little salt, cabbage, bean sprouts and peas.
11. Cook for 2 to 3 minutes.
12. Now add the noodles, chilli paste-tomato sauce mixture, mutton, tofu and potatoes.
13. Stir well until well combined.
14. Add the beaten egg and cook until set in a separate pan.
15. Add to the noodles and stir-fry until well scrambled.
16. Transfer to a serving dish.
17. Garnish with the limes.
18. Serve hot.
Tip:
If desired, omit the mutton pieces to make this a vegetarian dish.
Substiture mutton with chicken or prawns for variation.
image credit: https://www.flickr.com/photos/23880047@N05/5808577593/