Mysore, a city with a rich cultural heritage and history is not only famous for its palaces and Dusshera festival but is also known for its special cuisine. The Mysore masala dosa which is a treat to the taste buds is actually more popular in different parts of the world than the plain masala dosa that hails from Udipi of Karnataka.
The taste of the Mysore Masala Dosa differs from hotel to hotel but the key ingredients of the batter such as rice, Urad dal, and fenugreek seeds remain the same. Therefore, if you have to taste an authentic Mysore Masala Dosa then you will either have to visit Mysore or you can also pen down this recipe.
Also, there are many versions of the Mysore Masala Dosa. Some chefs like to make the exterior part of the dosa as crispy as possible whereas some cooks add ghee and butter on the top to make it amazingly delicious. However, the inner part of the dosa is mostly spongy similar to the texture of the uttapam.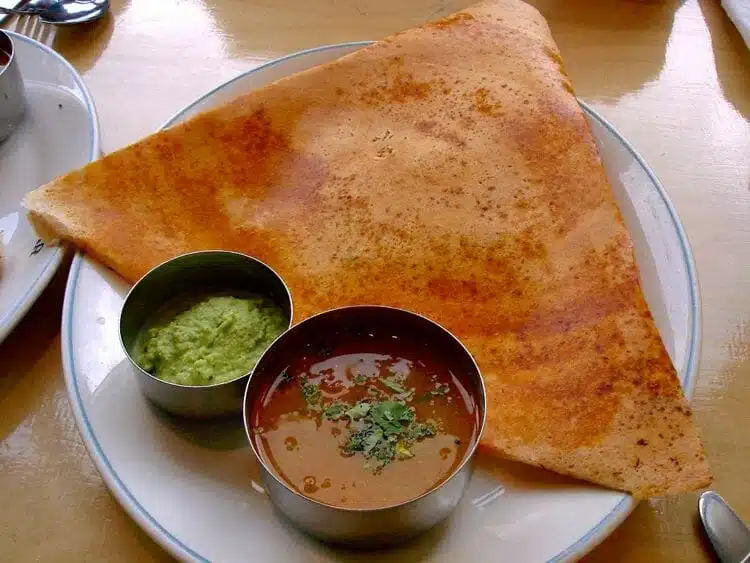 Potato vegetable is stuffed in the dosa and it usually comes with a bowl of sambhar or chutney or both. Like the other variants of dosa, the Mysore Masala Dosa is also light on the stomach and proves to be ideal for breakfast or can also be relished as an evening snack.
It is said that initially the dosa was eaten with a potato sambar but the potatoes eventually got replaced by the onions due to their easy availability. Some authentic South Indian restaurants add lots of unsalted butter to the dosa as it blends perfectly with its crispiness.
The Mylari hotel located in the vicinity of Nazarbad Police Station is considered to be the first food joint that commercialized this dish in the city. The small hotel is still very much running and accessible from all parts of the city. However, it does not have any branches and it has neither been renovated since decades.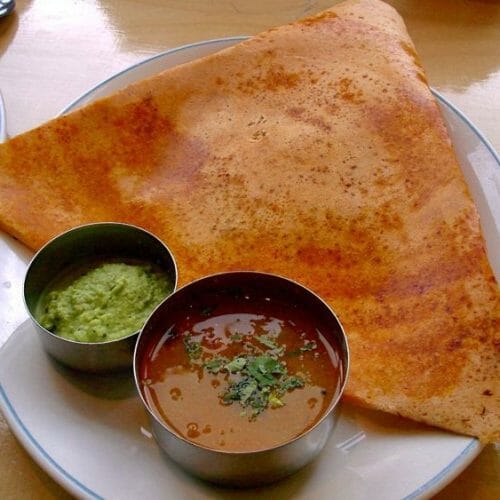 Mysore Masala Dosa

Recipe

Mysore Masala Dosa is light on the stomach and an ideal dish for breakfast or can also be relished as an evening snack.
Ingredients for
Mysore Masala Dosa
2

cups

Parboiled Rice (Idli Rice)

2

tsp

Fenugreek Seeds

1/2

cup

Urad Dal

1/4

cup

Aval (Poha)

1/4

tsp

Turmeric Powder

1

cup

Rava (Sooji)

1/2

tsp

Sugar

as per taste

Salt

as required

Oil

as required

Onion Chutney

or Garlic Red Chilli Chutney
For the Potato Masala:
3

cups

Potatoes

boiled, slightly mashed

2

cups

Onions

finely chopped

1/2

cup

Green Peas

shelled, boiled (optional)

2

nos

Green Chillies

finely chopped

1

tsp

Ginger Garlic Paste

1/4

tsp

Mustard Seeds

few

Curry Leaves

as per taste

Salt

a pinch

Asafoetida Powder

2 to 3

tblsp

Oil

1

tsp

Cumin Powder

1

tsp

Turmeric Powder

handful

Coriander Leaves

chopped
How to make
Mysore Masala Dosa
Combine and soak the rice, fenugreek seeds and urad dal for 4 hours.

Separately soak the aval for 1 hour.

Drain well.

Grind the aval first and then add the rice mixture.

Grind to a smooth batter.

Add salt and keep aside for 12 hours to ferment.

Add sugar, rava, turmeric powder and mix well.

To make the potato masala, heat oil in a pan.

Add the mustard seeds, curry leaves and asafoetida powder.

Add the onions and saute for a minute or two.

Add the peas, potatoes, green chillies, ginger garlic paste and mix well.

Add cumin powder, turmeric powder, salt and stir well.

After another minute, add coriander leaves and remove from flame.

Heat a nonstick tawa over medium flame.

Pour a ladleful of the batter and spread well to make a thin dosa.

Add oil around the edges and cover with a lid for a minute.

Add 1 or 2 tblsp of the onion chutney to the centre and spread evenly.

Add 2 to 3 tblsp of the potato masala and fold the dosa into a triangle.

Cook for 30 seconds and remove.

Serve hot with coconut chutney and sambar.