Kala Jamuns are dark (sometimes black) gulab jamuns made with paneer, khoya and soaked in sugar syrup. The regular gulab jamuns are light golden brown in colour while these ones are dark brown or black in colour. A popular dessert sweet, these are made for most festivals, weddings or any occasions.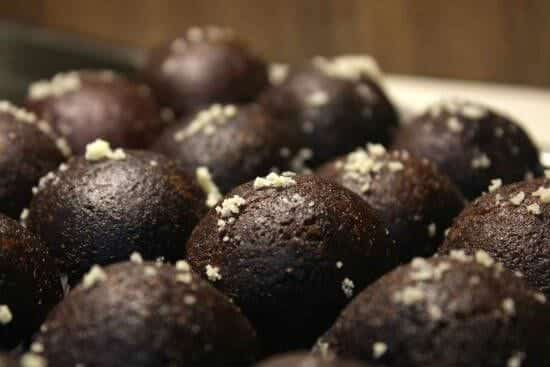 Ingredients:
Paneer – 400 gms
Khoya – 100 gms
Maida – 2 tblsp
Rava – 3 tsp
Ghee – 1/4 cup, melted
Milk Powder – 200 gms
Sugar – 600 gms
Water – 1 litre
Cashew Nuts – 25 to 30, broken
Rasins – 25 to 30
Cardamoms – few, coarsely powdered
Orange Food Colour – little
Oil as required for frying
Saffron Strands – little
Cardamom Powder – little
Baking Soda – a large pinch
Method:
1. Combine the paneer, milk powder, khoya, rava, maida, baking soda, orange colour and ghee in a large bowl.
2. Rub and mix well until smooth.
3. If it is too dry, add 2 to 3 tblsp warm water.
4. Keep aside for 2 to 4 minutes.
5. Heat 3 litres of water in a large pan over medium flame.
6. Add the sugar and stir well until fully dissolved.
7. When it starts to become a little sticky, add saffron strands and cardamom powder.
8. Mix well and remove from flame.
9. Make small balls of the paneer-khoya mixture.
10. Add one raisin, few cashew nuts and cardamoms to each of the prepared balls.
11. Roll them again so that the cashew nuts stay intact.
12. Heat oil for deep frying over medium flame.
13. Fry the prepared jamuns until dark brown.
14. Gently drop them in the sugar syrup.
15. Keep aside for 8 hours or overnight in the fridge.
16. Serve 1 or 2 jamuns with some sugar syrup.
Subscribe to our Newsletter
Receive the latest recipes & kitchen tips !