Handvo (or Handwa) is a popular Gujarati savoury dish made with semolina and yogurt.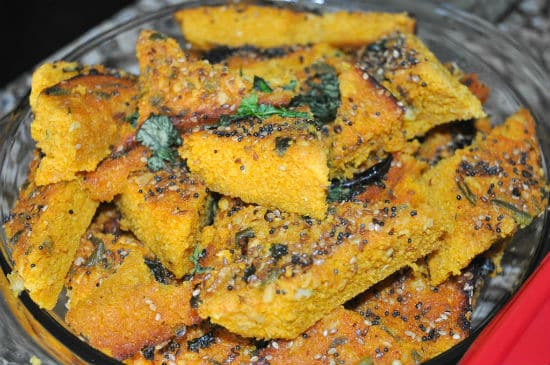 Ingredients:
Coarse Semolina – 1 cup
Plain Yogurt – 1/2 cup
Cucumber (or Zucchini or Bottle Gourd) – 1, small, grated
Carrot – 1, grated
Green Peas – 1/4 cup, shelled
Onion – 1, chopped
Ginger – 1/2 inch piece, grated
Turmeric Powder – 1/4 tsp
Red Chilli Powder – 1/4 tsp
Salt as per taste
Baking Powder – 3/4 tsp
Oil – 3 tsp
Water – 1/4 cup
For tempering:
Oil – 3 tsp
Red Chilli – 1, small, finely chopped
Sesame Seeds – 1 1/2 tsp
Mustard Seeds – 1 tsp
Method:
1. Mix the semolina with 3 tsp oil in a bowl.
2. Add the yogurt, cucumber, carrots, peas, onions, ginger, red chilli powder, turmeric powder, salt and baking powder.
3. Mix well.
4. Pour the water gradually and mix until it has a thick, pourable consistency.
5. Heat oil for tempering.
6. Fry the tempering ingredients and pour it over the batter.
7. Stir well and transfer the batter to a greased round cake pan or a oven-safe plate.
8. Place the pan into a preheated oven at 200C/400F for 30 minutes or until cooked.
9. Insert a knife or a skewer into the center and if it comes out clean, then it is cooked.
10. Remove and cool.
11. If you do not have an oven, pour the batter into a nonstick pan.
12. Place it over low flame and cover with a lid.
13. Cook for 7 to 8 minutes or until the crust is golden brown and crispy.
14. Flip it over and cook for another 3 minutes.
11. Serve with coriander chutney or sauce.
12. Store any remaining handvo in an airtight container. This stays good for up to 3 days.