This classic Prawn Cocktail Salad is an ideal appetizer/starter to any meal. Simple and easy to make, this can also be served as a light dinner option or as an evening snack.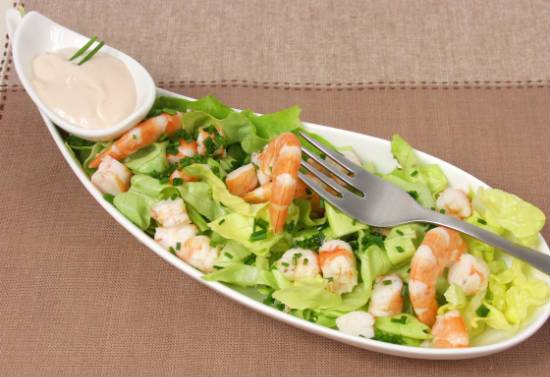 Ingredients:
Prawns – 32, large, shelled and deveined
Salt – 2 tsp
Lemon – 1/2, sliced
Tomato Ketchup – 175 gms
Horseradish – 1 1/2 tblsp, grated
Celery Sticks – 3, cut into 1/4 inch pieces
Juice of 1 Lemon
Lemon Rind – 1 tblsp, grated
Salt and Pepper
Iceberg Lettuce Leaves – shredded, to serve
Lemon Wedges to garnish
Method:
Bring a large pan of water to a boil.
Stir in the salt and lemon slices, then reduce the heat to low.
Add the prawns and leave to simmer for about 3 minutes until they are cooked through, turn pink and curl.
Drain the prawns and immediately refresh under cold running water to cool the prawns. Set aside.
Put the ketchup, horseradish, celery and lemon rind in a bowl.
Mix well.
Stir in the lemon juice, salt and pepper.
Stir in the prawns, then cover and chill for 2 to 3 hours.
When ready to serve, stir the prawn salad and adjust the seasoning.
Divide the shredded lettuce between salad bowls and spoon the salad on top.
Serve at once while the salad is still chilled with lemon wedges for squeezing over.