A popular recipe from Tamil Nadu, these shrimp vadais are best served as an evening snack with chutney or sauce.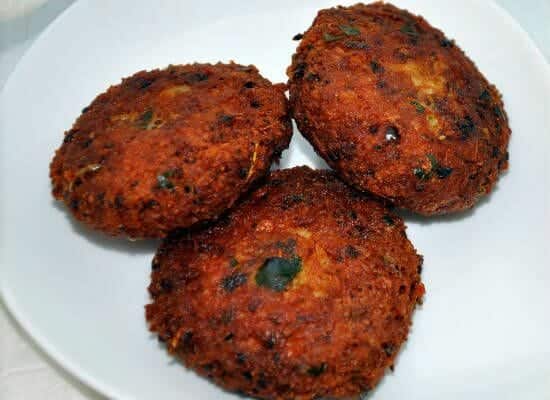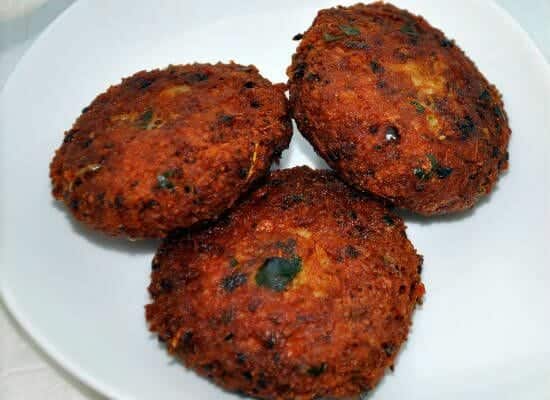 Ingredients:
Shrimps – 500 gms, peeled, deveined
Onions – 2, medium or 1, big, finely chopped
Gram Flour – 1 1/2 to 2 cups
Coconut – 1/4 cup, grated
Turmeric Powder – 1/4 tsp
Red Chilli Powder – 1 tblsp
Garam Masala Powder – 1 tsp
Curry Leaves – few
Coriander Leaves – big handful, chopped
Oil as required for frying
Salt as per taste
Method:
1. Combine the shrimps, onions, coconut, red chilli powder, curry leaves, salt, turmeric powder, garam masala powder and salt.
2. Mix well and grind them to a coarse mixture.
3. Transfer to a large bowl.
4. Add coriander leaves and gram flour.
5. Add a little water if desired and shape the mixture into small/medium balls. Flatten them using your palms.
6. Heat oil in a frying pan over medium flame.
7. Fry the prepared vadais until golden brown or for 3 to 5 minutes.
8. Remov and drain excess oil.
9. Serve hot.