Perfectly cooked and roasted potatoes that is crispy on the outside and makes for a great snack/side dish/accompaniment for any meal.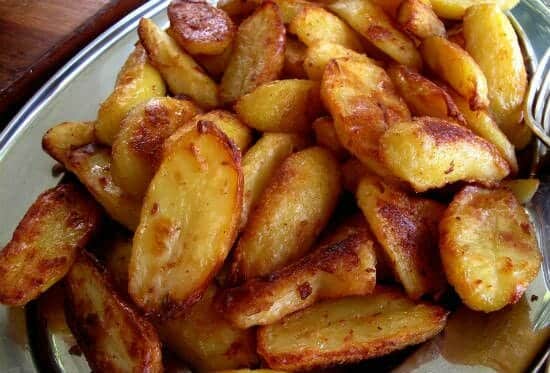 Ingredients:
Potatoes – 500 gms, cut into bite-sized pieces
Olive Oil – 1 tblsp
Butter – 1 tblsp, unsalted, melted
Salt as per taste
Black Pepper Powder as per taste
Method:
1. Heat a large pan of water.
2. Add some salt and bring to a boil.
3. Add the potatoes and cook until tender, about 5 minutes.
4. Remove the pan from flame and drain well.
5. Heat a griddle pan (or a nonstick pan) over medium flame.
6. Add olive oil and butter.
7. Add the potatoes and sprinkle some pepper and salt.
8. Stir/toss well to coat.
9. Cook for 30 to 40 minutes or until the potatoes turn golden, stirring from time to time.
10. Remove and serve.
Tip: You can also cook the potatoes in an oven at 450F/230C.