An easy to make appetizer for any parties or special occasion.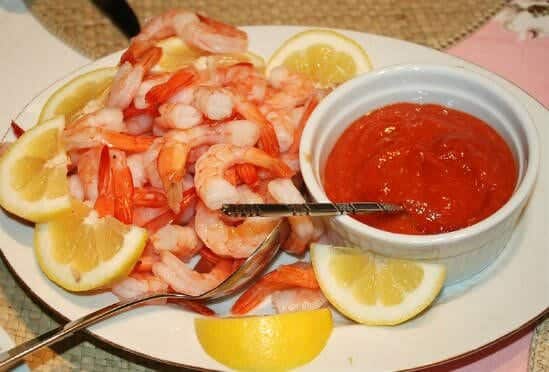 Ingredients:
Shrimps – 12 to 14, peeled, deveined, tails intact
Coriander Seeds – 2 tsp
Salt as per taste
Black Peppercorns – 2 tsp
Lemon – 1, small, quartered
Bay Leaf – 1
For the sauce:
Sweet Chili Sauce – 2 1/2 tblsp
Ketchup – 2 tblsp
Juice of 1/2 Lemon
Dijon Mustard – 1 tblsp
Tabasco Sauce – 1/2 tsp
Worcestershire Sauce – 1/8 tsp
Black Pepper Powder as per taste
Salt as per taste
Method:
1. Mix all the sauce ingredients in a bowl and keep it in the fridge for 60 minutes.
2. Heat a large pan over medium flame.
3. Pour 4 cups of water.
4. Add bay leaf, lemon, peppercorns, coriander leaves and salt.
5. Bring to a boil and reduce flame to low.
6. Add the shrimps and cook for 4 to 5 minutes or until they curl slightly and cooked through.
7. Remove the shrimps and drain well.
8. Keep them in the fridge for an hour.
9. Transfer to a serving plate and serve with the sauce and lemon wedges.