Medhu Vadai is a very popular deep fried South Indian snack/appetizer served during breakfast or as an evening snack. They are also made during festival or special occasions. Technically Medhu Vadai and Ulundu Vadai are the same, but the difference is in some parts onion is not added to Ulundu Vadai and it is added to Medhu Vadai.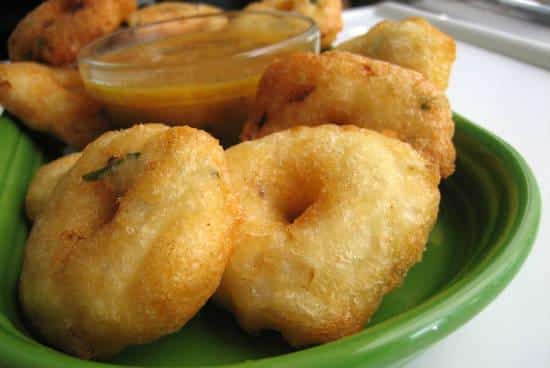 Ingredients:
Urad Dal – 1 cup
Onions – 1/4 cup, finely chopped
Green Chillies – 2, finely chopped
Ginger – 1 tblsp, grated
Salt – 1/2 tsp
Fresh Coriander – 1/4 cup, finely chopped
Oil for deep frying
Method:
1. Wash the dal and soak in water for 2 hours.
2. Drain and transfer it to a blender.
3. Grind the dal, gradually adding up to 1/4 cup of water to make a thick, slightly coarse batter.
4. Add the onions, green chillies and ginger and mix well.
5. Mix the salt and coriander into the batter.
6. Put the oil in a kadai over medium heat.
7. Place a damp cloth on your palm and put about 1 1/2 tblsp of batter on it. The damp cloth prevents the batter from sticking to your hand.
8. Form the batter into a doughnut shape and transfer the vadai directly into the hot oil.
9. Fry till one side is cooked and golden brown.
10. Turn over and fry the other side, till golden brown.
11. Drain.
12. Make the remaining vadai in the same way.
13. Serve hot with coconut chutney.
Tip: Don't make the batter too thin as it will be oily when fried.