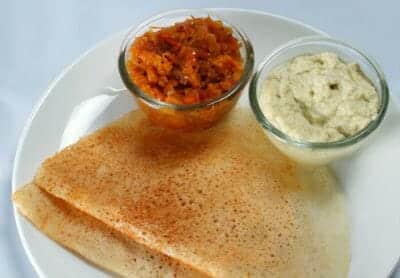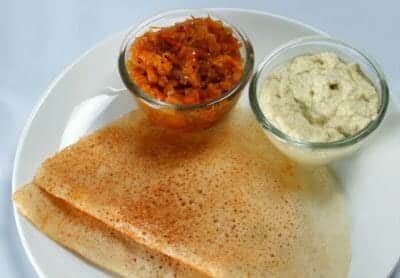 Ingredients:
White Chickpeas – 1 cup
Raw Rice – 2 cups
Green Chillies – 3
Dry Red Chillies – 3
Ginger – a small piece
Coconut – 2 tblsp, grated
Asafoetida Powder – 1/4 tsp + 1/4 tsp
Cumin Seeds – 1 tsp
Curry Leaves – little, finely chopped
Coriander Leaves – little, finely chopped
Onion – 1, finely chopped
Oil as required
Salt as per taste
Method:
1. Soak the chickpeas for 8 hours.
2. Soak the rice for 1 hour.
3. Wash and drain the chicken peas well.
4. Grind together the rice, ginger, coconut, green chillies, red chillies, asafoetida powder, salt and chickpeas to an idli batter consistency.
5. Heat oil in a pan over medium flame.
6. Saute the cumin seeds, onions, coriander leaves, curry leaves and asafoetida powder for a minute or two.
7. Add to the batter and mix well.
8. Heat a tawa over medium flame.
9. Pour a ladleful of the batter and spread evenly to make a thin dosa.
10. Apply oil around the edges.
11. Remove when cooked and crisp.
12. Serve hot with chutney of choice.