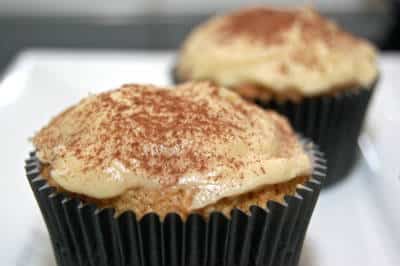 Ingredients:
Cocoa Powder – 2 tblsp + extra
Light Brown Sugar – 150 gms
Maida (Plain Flour) – 100 gms
Eggs – 5 to 6
Instant Coffee Powder – 2 tblsp
Butter as required
Greased Muffin Pan lined with paper cups
For the topping:
Icing Sugar – 4 tblsp + extra for dusting
Plain Yogurt – 200 gms
Cheese – 200 gms, soft
Method:
1. Mix the coffee powder in 1/4 cup of boiling hot water.
2. Stir well until fully dissolved and keep aside to cool.
3. Beat the eggs and sugar until creamy.
4. Add the flour, cocoa powder and cooled coffee.
5. Mix well.
6. Spoon over the mixture into the paper cups.
7. Place the pan in a preheated oven at 190C/375F.
8. Bake for 10 to 20 minutes or until the cakes have risen well.
9. Remove and cool.
10. Mix the topping ingredients in a bowl.
11. Spoon the topping over the cakes and sprinkle icing sugar on top.