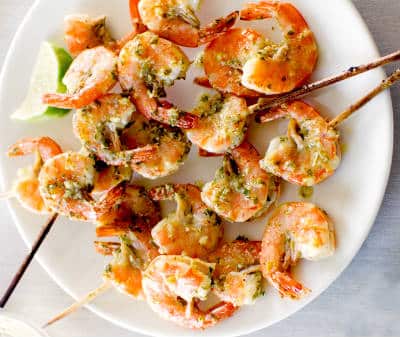 Ingredients:
Sweet Chili Sauce – 1 cup
Shrimps – 24, peeled, deveined
Lemon Juice – 2 tblsp
Garlic – 2 1/2 tsp, minced
Wooden Skewers – soaked in water for 30 minutes
Olive Oil as required
Coriander Leaves – 3 tblsp + some more for garnish
Lemon Wedges to serve
Method:
1. Mix the sweet chili sauce, lemon juice, garlic and coriander leaves in a bowl.
2. Keep aside some for dipping.
3. Pour the remaining sauce over the shrimps and mix wel until evenly coated.
4. Keep aside for 30 minutes.
5. Heat a non-stick pan or a griddle pan over medium flame.
6. Skewer the marinated shrimps leaving 1/2 to 1 inch gap between each shrimp.
7. Add some olive oil to the pan and spread evenly to coat.
8. Place the wooden skewers and cook for 4 to 5 minutes or until golden.
9. Turn them from time to time to cook in all sides.
10. Remove and transfer to a serving plate.
11. Garnish with coriander leaves.
12. Serve with the reserved dipping sauce and lemon wedges.