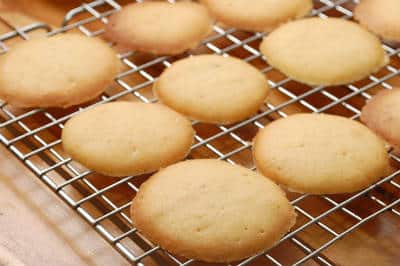 Ingredients:
Lemonade Concentrate – 90 ml
Baking Soda – 1/2 tsp
Maida (Plain Flour) – 1 1/2 cups
Egg – 1
Sugar – 1/2 cup + 1 tblsp
Butter – 60 gms, soft
Lemon Zest – 1/2 tblsp
Method:
1. Mix the butter and 1/2 cup sugar in a bowl until creamy.
2. Add the egg and beat well.
3. In an another bowl, mix the flour and baking soda.
4. Add this to the egg mixture alternating with the lemonade concentrate.
5. Add the lemon zest and mix well.
6. Take 1 teaspoonful of the batter and drop them on a baking tray lined with baking sheets. Gently press to flatten lightly. Repeat with the remainder of the batter, leaving 1 or 2 inches gap between each cookie.
7. Place the baking tray in a preheated oven at 400F/200C and bake for 10 minutes or until the edges turn light brown.
8. Remove and brush the cookies with any leftover lemonade.
9. Sprinkle with the 1 tblsp sugar and cool.
10. Store in an airtight container.
11. Serve.