A delicious and authentic Chinese recipe with shrimps, peanuts and vegetables.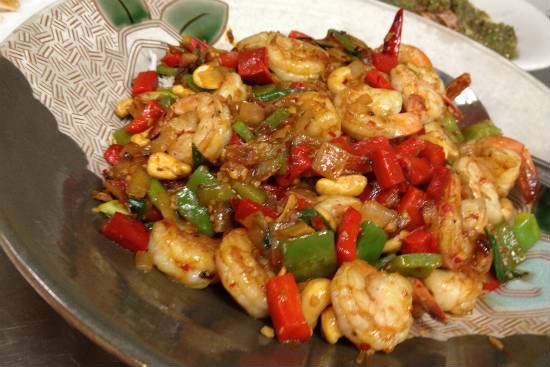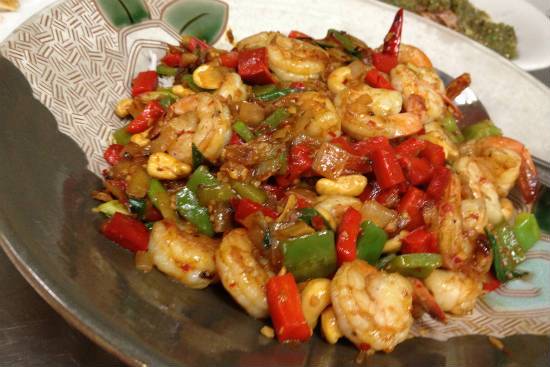 Ingredients:
Shrimps – 200 gms, shelled, deveined
Spring Onions – 1 cup, finely sliced
Red Capsicum – 1, seeded, chopped
Celery Stalk – 1, chopped
Corn Flour – 1 tblsp, mixed with 1 tblsp water
Soy Sauce – 1 tblsp
Balsamic Vinegar – 2 tsp
Ginger – 1/2 tsp, finely chopped or ground
Red Chillies – 1/2 tsp, finely chopped (or use Red Chilli Flakes)
Garlic – 1 clove, crushed
Peanuts (or Almonds/Cashew Nuts) – handful, dry roasted, unsalted and chopped
Sunflower Oil – 1 tsp
Salt as per taste
Black Pepper Powder as per taste
Method:
1. Heat oil in a non-stick pan over medium flame.
2. Add the capsicums, celery, red chillies and pinch of salt.
3. Cook for 5 to 10 minutes or until tender.
4. Combine the cornstarch, soy sauce, vinegar and ginger in a bowl.
5. Add a pinch of pepper powder and 2 to 3 tblsp of water.
6. Mix well and add to the pan.
7. Add the shrimps, spring onions, garlic and peanuts.
8. Simmer for 2 to 3 minutes or until the shrimps turn opaque.
9. Keep stirring from time to time.
10. Remove and transfer to a serving dish.
11. Serve with rice.