A variety of rasam made in parts of Thanjavur, Kumbakonam and other parts of Tamil Nadu.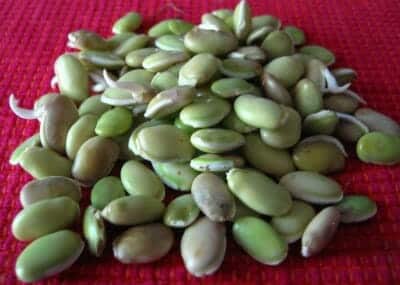 Ingredients:
Mocha (Dry Field Beans) – 1/2 cup
Tamarind Extract – 1/2 cup, thick
Dry Red Chillies – 1 or 2
Green Chillies – 2
Turmeric Powder – 1 tsp
Garlic – 2 cloves
Asafoetida Powder – 1/4 tsp
Coriander Powder – 1/2 tsp
Black Pepper Powder – 1 tsp
Coconut Oil – 1 tsp
Mustard Seeds – 1 tsp
Curry Leaves – few
Salt as per taste
Method:
1. Soak the mochai for a few hours and peel the skin.
2. Grind green chillies, salt and 1 tsp of mochai coarsely and keep aside.
3. Gently roast the garlic and grind with turmeric powder.
4. Combine the mochai, tamarind extract and salt in a pan.
5. Simmer for 10 minutes.
6. Add pepper powder, garlic powder, coriander powder, asafoetida powder and 2 cups of water.
7. Add the ground mochai paste and stir well.
8. Bring to a boil and switch off the flame.
9. Heat coconut oil in a small frying pan.
10. Fry the mustard seeds, curry leaves, dry red chillies and add to the rasam.
11. Serve hot.