The very mention the word festival or festivities makes one recollect the savories and snacks associated with it. Delicacies are the highlight of any festival apart from their customary celebration and they are a grand part of the celebration. The olfactory senses instantly become alert when festivities round the corner because of the delicious smells from the kitchens. Every festival has its own set of delightful food and Diwali is no exception. In fact, it is only of the few festivals for which a lot of snacks and savories are prepared and devoured of course!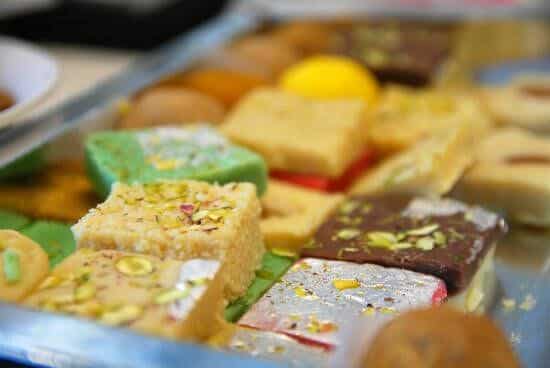 Delicacies from the North
Diwali is celebrated widely across the country and hence has a whole list of sweets and snacks from various regions. If we were to list the top ten savories and sweets, it would most probably be in this order:
Chaklis– customarily various kinds of chaklis are made in the North. Chaklis are deep fried crispy snacks that are prevalent in Maharashtra, Gujarat and even Andhra. There are various kinds of Chaklis – sweet chaklis and spicy ones. They are so popular that many consider them the queen of Diwali savories.
Karanji – It is a deep fried delicacy made of maida chapathi filled with a sweet mixture of fried gram and nuts.
Kharkharia- A delicious Gujarati deep fried dish made especially for Diwali consisting of flours and sugar.
Mathiya – This is yet another Gujarati Diwali special. This one is gluten free and extremely crispy; made of a mixture of gram flours, chilies and a tinge of soda.
Moti Choor Laddoo – This sweet is an all time favorite and many make it for Diwali. Many add nuts and even raisins to this heavenly concoction of gram flour, ghee and sugar. It is very pretty to look at and is a favorite among most kids.
Besan Laddoo – This laddoo is made of gram flour, sugar and ghee. Occasionally cashew nuts are added to it. It is good for health as it contains a lot of protein and it isn't fried.
Bakharwadi– This Maharashtrian snack is a hit with all age groups. It has a delicious filling and is one snack that one can gobble at will.
Shrikhand – This sweet is made of strained yoghurt. This is a main dessert in many Indian cuisines. Variations of this dessert include addition of mango pulp, almonds, etc. This is an exotic delicacy and for many, the meal isn't complete without it.
Rossgulla– This delicacy is of Bengali origin. It has a mind blowing taste and is made of churned milk and sugar and is served with sugar syrup.
Sandesh– This is a melt in the mouth Bengali sweet. It is very delicate and soft and has an incredible balance of flavors. Any celebration is incomplete without this sweet for a Bengali.
Other favorites include samosas, cutlets and delicacies with chickpeas.
Delicacies from the South
In the South, the festival is celebrated with much gusto and is one of the most important religious festivals apart from the navarathri. Legend has it that Lord Krishna slayed his uncle, the tyrannical king Kamsa and freed all the people he had enslaved and tortured for years.
The top savories and sweets from the South are given below:
Loaded with this list, get started on preparing a few and tantalize your taste buds this Diwali. Bon Appétit!
Happy Diwali (Deepavali)