Lamb pieces are marinated in a mixture of spices, skewered and grilled until cooked through. Serve with a salad of choice.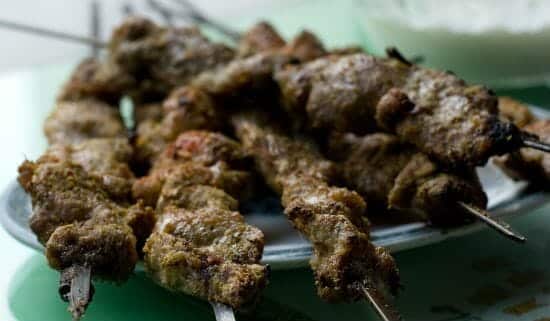 Ingredients:
Lamb – 500 gms, chopped into small cubes
Plain Yogurt – 3 to 4 tblsp
Ginger Garlic Paste – 2 tblsp
Red Chilli Powder – 1/3 tsp
Oil – 2 tsp
Lemon Juice – 1 tsp
Garam Masala Powder – 2/3 tsp
Cumin Powder – 1/2 tsp
Salt as per taste
Black Pepper Powder as per taste
Wooden Skewers – 3 to 4, soaked in water for 30 minutes
Method:
1. Combine the yogurt, ginger garlic paste, red chilli powder, oil, lemon juice, cumin powder and garam masala powder in a bowl.
2. Sprinkle some salt and pepper powder.
3. Mix well and add the lamb cubes.
4. Mix well and cover the bowl with a lid.
5. Place it in the fridge for 6 to 8 hours.
6. Skewer the marinated lamb pieces, 4 to 5 per skewer, and keep them aside.
7. Heat a grill pan over medium flame.
8. Add a little oil to the pan and place the skewers.
9. Cook for 10 minutes, turning from time to time, or until the lamb is cooked through and lightly charred.
10. Remove and serve with a salad of choice.