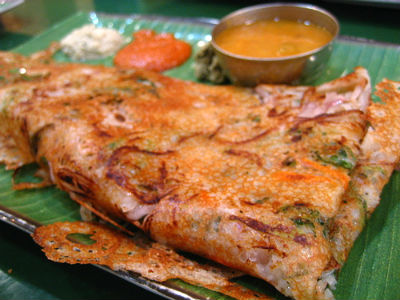 Ingredients:
Rava – 2 cups
Rice Flour – 2 cups
Onions – 5, big, finely chopped
Green Chillies – 5 to 6, finely chopped
Ginger – 1 one inch piece, peeld, grated
Black Peppercorns – 1 tsp
Cumin Seeds – 1/2 tsp
Salt as per taste
Asafoetida Powder as per taste
Oil as required
Method:
1. Combine the rava and rice flour with enough water.
2. Mix well to a smooth batter.
3. Add cumin seeds, salt and asafoetida powder.
4. Mix and keep aside for a few hours.
5. In a medium bowl, mix the onions, green chillies, ginger and black peppercorns.
6. Heat a tawa over medium flame.
7. Add a little oil.
8. Add 1/2 cup of water to the batter and mix well so that the batter is not too thick. Adjust the quantiy of water as desired.
9. Pour a ladleful of the batter in the centre of the tawa and spread evenly to a circle.
10. Sprinkle some of the onion mixture and add little oil to the edges.
11. Cook until golden brown and transfer to a serving plate.
12. Serve hot with chutney and sambar.