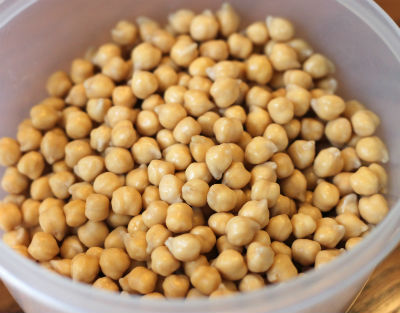 Ingredients:
Kondai Kadalai (Chickpeas) – 1/2 cup, soaked overinght
Tamarind – a lemon sized ball
Sambar Powder – 1/2 tblsp
Turmeric Powder – 1/4 tsp
Coconut – 1 tsp, grated
Sombu – 1 tsp
Oil – 1 tbsp
Mustard – 1/2 tsp
Cinnamon – 1/2 inch stick
Sambar Onion – 5, chopped
Tomato – 1, cut into pieces
Curry Leaves – few
Salt as per taste

Method:
1. Pressure cook the chickpeas for three to four whistles.
2. Soak tamarind and salt in one cup of water.
3. Squeeze out the tamarind and extract the juice to make 3 cups.
4. Add sambar powder, turmeric powder.
5. Add cooked peas and tomato.
6. Mix well and bring to a boil.
7. Grind the coconut and sombu to a fine paste.
8. Add to the boiling kuzhambu.
9. Stir well. Boil in a low flame for few more minutes.
10. Heat oil in a pan over medium flame.
11. Fry the mustard seeds till it starts to splutter.
12. Add cinnamon, sombu, and fry well.
13. Add onion and curry leaves.
14. Fry and add to the boiling kuzhambu.
15. Remove to a serving bowl.
16. Serve with rice or roti.