Indulge in the sweet aroma of Zarda, a delightful dessert made with fragrant rice, aromatic spices, and a touch of saffron.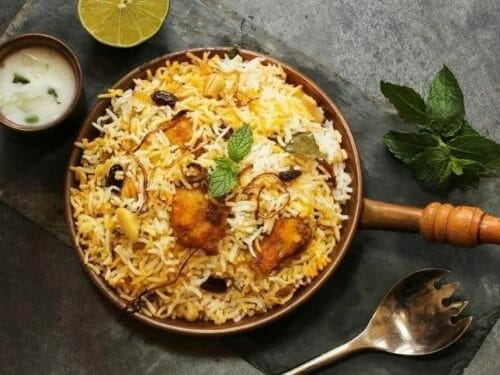 Are you craving a delightful and flavoursome dessert? Look no further as we present the mouthwatering recipe of Zarda, a traditional and regal sweet dish. Shahi Zarda, also known as Sweet Rice, is a classic and exquisite dessert that will satisfy your sweet tooth. This recipe combines fragrant basmati rice, aromatic spices, and a touch of saffron to create a heavenly treat. Let's dive into the simple steps to prepare this delectable Zarda recipe with milk.
To begin with, gather the following ingredients for this sumptuous shahi Zarda recipe: basmati rice, ghee, sugar, milk, saffron strands, cardamom pods, almonds, pistachios, and raisins. Now, let's embark on our culinary journey.
Firstly, wash the basmati rice thoroughly and soak it in water for about 30 minutes. While the rice is soaking, heat a tablespoon of ghee in a pan over medium heat. Add the soaked rice and sauté it for a few minutes until it turns slightly golden.
Next, add milk to the pan, ensuring it covers the rice thoroughly. Allow the rice to cook on low heat until it becomes tender and absorbs the milk, giving it a creamy texture. Stir occasionally to prevent sticking.
As the rice cooks, take a small bowl, add warm milk, and dissolve a pinch of saffron strands. Let it infuse and enhance the mesmerizing aroma. Once the rice is cooked, add this saffron-infused milk to the pan, stirring gently to distribute the golden hue evenly.
Now, it's time to add captivating flavours. Crush a few cardamom pods to release their essence and add them to the rice. Sprinkle a generous amount of sugar, balancing the sweetness according to your preference. Mix everything well, allowing the sugar to dissolve and coat each grain of rice with its sweetness.
To make this Zarda recipe even more delightful, garnish it with slivered almonds, crushed pistachios, and plump raisins. These colourful additions bring a lovely visual appeal, a delightful crunch, and a burst of flavours to each bite.
Finally, cover the pan and let the flavours meld together on low heat for a few more minutes. Once ready, serve this aromatic and luscious Shahi Zarda warm, allowing its enticing fragrance to captivate your senses. The vibrant colours, rich flavours, and heavenly aroma will undoubtedly make this Zarda a star on your dessert table.
In conclusion, Zarda is a traditional sweet dish made with basmati rice, milk, sugar, and aromatic spices. This shahi Zarda recipe offers a simple yet regal twist to this classic dessert, making it a perfect treat for any occasion. So, indulge yourself and your loved ones in the delightful sweetness of Zarda, and let this heavenly dessert leave an everlasting impression on your taste buds.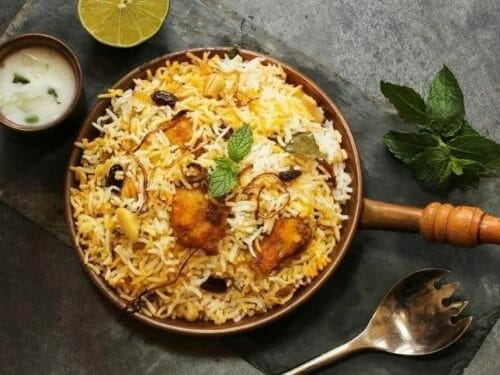 Zarda
Indulge in the sweet aroma of Zarda, a delightful dessert made with fragrant rice, aromatic spices, and a touch of saffron.
Ingredients
250

g

Fine Rice

1

tbsp

Almonds

1/2

cup

Ghee

1-

inch

stick of Cinnamon

5

Cardamoms

1/4

tsp

Cloves

1

tbsp

Raisins

250

g

Sugar

1/4

tsp

Saffron (crushed and soaked in 1 tbsp milk)

Juice of 1/2 Lime

Pistachios and Cashews (for garnish)
Instructions
Soak the almonds in warm water and peel them.

Slice the almonds finely and lightly fry them in a little ghee. Drain and set them aside.

Soak the rice in water for 10 minutes.

Heat ghee over low heat in a large pan and fry the cinnamon, cardamom, and cloves until the cardamoms swell and splutter.

Soak the raisins in water and drain the rice.

In a separate pan, heat 500ml of water and add the rice, fried cloves, cinnamon, and cardamom. There should be double the amount of water in rice.

Cook until the rice is 2/3rds done.

Dry the saffron in a frying pan, crush it, soak it in 1 tbsp of milk, and add it to the rice with raisins and sugar.

Add the lime juice.

Cook on low heat (dum) or in the oven at 250°F for 20 minutes.

Garnish with pistachios and cashews before serving.
Frequently Asked Questions:
Can I use brown rice instead of fine rice for Zarda? 
While brown rice is a healthier option, Zarda traditionally uses fine rice for its unique texture. You can try it, but it will result in a different flavor and texture.
What are some suitable pairings with Zarda? 
Zarda pairs wonderfully with dishes like Chicken Biryani, Sheer Khurma, or Kheer for a complete, festive meal.
Can I make Zarda ahead of time and reheat it? 
Yes, Zarda can be prepared in advance and gently reheated. Just sprinkle a little water before reheating to maintain its moisture and flavor.
Is Zarda the same as Zarda Pulao? 
Zarda and Zarda Pulao are similar but not identical. Zarda is a sweet rice dessert, while Zarda Pulao combines sweet and savory elements and often includes meat or vegetables.
Can I use other nuts for garnishing Zarda? 
Absolutely! Feel free to experiment with your favorite nuts like almonds, walnuts, or even pistachios for a unique twist on the garnish.
Note: image is for illustration purposes only and not that of the actual recipe.