Malpua is a traditional Indian dessert popular during Holi festival. It is also known as Indian sweet pancake.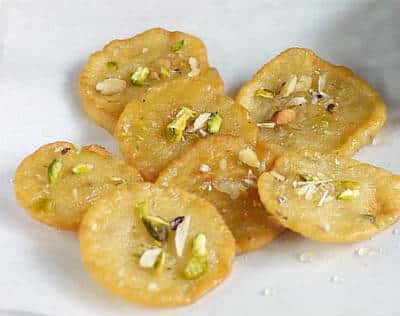 Ingredients:
Plain Flour (Maida) – 150 gms
Semolina (Rava) – 100 gms, lightly roasted
Fennel Seeds – 1/8 tsp (optional)
Baking Powder – a pinch
Green Cardamom Powder  – a pinch
Milk – 500 ml
Ghee (or Oil) –  for frying
Pistachios – handful, broken, for garnishing
For the Sugar Syrup:
Sugar – 250 gms
Milk – 50 ml
Water – 200 ml
Saffron Strands – a pinch (optional)
Method:
1. Place the water for sugar syrup in a pan over medium flame.
2. Add the sugar and stir until fully dissolved.
3. Add the milk and after a few minutes remove the scum that rises to the top.
4. Remove the pan from the flame and keep aside.
5. Mix maida, rava, baking powder, fennel seeds, cardamom powder and milk.
6. Ensure the mixture is of pouring consistency and not too thick.
7. Heat ghee in a pan over low flame.
8. Pour a ladleful of the mixture and spread evenly.
9. Cook till it is light brown on both sides.
10. Remove and drain excess ghee.
11. Drop it in the sugar syrup and let it soak for 10 minutes.
12. Repeat the same with the remaining batter.
13. Drain the malpuas from the syrup, garnish with pistachios and serve.
Note: Malpuas has quite a few regional variations. In some parts, Khoya is added instead of Semolina, Black Pepper Powder instead of Green Cardamom Powder.