India being a country encompassed by sea all around is the ever favorite hunting spot for seafood varieties and the delicious delicacies they render! Search out the coastal inlets of India and pick out the hidden treasures of food varieties to work wonders with them. India's seafood includes various fish, prawn, crab and oyster. They abound in their species and expose their scope for healthy, nutritious and staple diet for India.
Famous Fish Curries: Goa, Kerala, West Bengal and Mangalore are known for various fish curries in traditional fashion and with improved styles upon it. Different savors and flavors are available in the rich sea fish available like salmon, mackerel, sardine, clam and tuna. When roasted with spices or cooked with masala ingredients, they smell lip smacking and kindle the taste buds to taste them immediately. None can resist the temptation to taste griddle roasted kingfish or fish steamed in banana leaf. Maccher kalia and fish makhni – the famous Bengali fish cuisine is taste filled food variety to relish, when the South Indians cook fish with coconut milk and thereby make it extra tasty. Now, people improve upon the traditional cooking methods with latest versions like fish chips and fish fingers. Fish tikkas and tandoori fish have become the fashion of the trendy eaters of the day. Fish pulau is also becoming trendy of late. People prefer fish all over India for it is easy to cook, healthy to eat and rich in nutrient values. All of us know that eating fish adds lusture to the skin and brightness to the eye. Further, it's tangy and its spicy flavor makes everyone's meal satisfying and rich.
Varieties in Fish Curries: Though you have the basic ingredient as fish or different species of fish, the cooking styles differ according to the regional backgrounds and the seafood cuisine is particularly dependent upon the herbs and spices available in the particular areas. Move on to west Bengal- you have the typical Bengali Mustard fish curry. Similarly in Tamil Nadu, vanjaram fish fry is very famous. Likewise, you have pan fried salmon or grilled salmon steaks with adds of lemon and pepper. Tilapia fillets taste spicy when they are roasted with masala. Fish fry and fish korma are everyday food of the sea bound spots of India.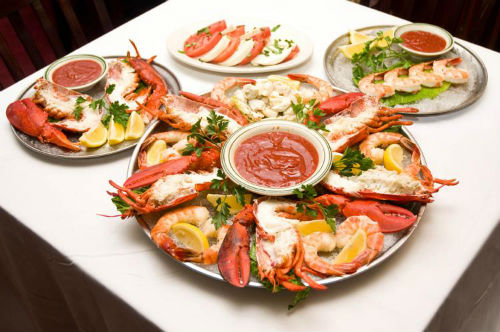 Prawns and Crabs: Prawn and crab once again are the ever abundant seafood species available in plenty all over India. As with fish, prawn cooking also has seen a lot of embellishment and refinement. In all the restaurants of India, you find tawa prawn and masala prawn as the favorite items ordered by the food lovers for the spicy richness they render to the food. Prawn, when cooked with olive oil n the combination of chili and spices smell great and prove yummy to taste. Crab is as well as awesome seafood, good for health with its nutrient values. People in a cold weather prefer crab curry, tandoori crab and crab soup. When mixed with Indian spices, it makes a fabulous dish for sea surrounded people.
Oyster, Snails and Lobsters: Oyster savors well for the piquant smells and tastes it has. People like broiled oyster and deep fried oyster for the different smells it produces. Snails are the common findings in lake, river and paddy fields. They are fried raw and eaten with fervor wherever they are found. Lobster is an all purpose seafood – can be steamed, boiled, baked or grilled. And in modern days, Squid tops the list with its recipes like squid chili fry and fried squid.
Seafood is a much favored staple diet for the Indians living not only in coastal areas but in all other places for the benefits it offers and the good tastes it provides. Seafood cuisine is also an acclaimed choice for the cooks for the ease it renders in cooking aspects and the great results that follow on the dining table.