Diwali, popularly called the festival of lights is celebrated in all parts of India, irrespective of region, and very actively among Hindus, Jains and Sikhs. Nowadays, even this gap is getting narrowed down and such festivals often become opportunities for social and communal get together and partying.
Even amongst Hindus, there are atleast four different reasons Diwali is celebrated. One is the return of Lord Rama after fourteen years of forest dwelling. The second is the killing of Narakasura. And the third is Govardana Puja is celebrated the day after Diwali which Krishna stopped anyway and incurred the wrath of Lord Indra and well, the story goes on. The fourth is (I bet you did not see this coming) the pandavas returned back after twelve years of forest dwelling. Whew, that was a long list. But well, more reasons to celebrate, so more celebrations and more fun.
So, the crackers never stop for a week before and after Diwali. And the lamps and color bulb lights adorn the homes for about a long week. Goddess Lakshmi is worshipped in North, West and East India. A new year is supposed to start on the day of Lakshmi puja. New clothes are worn, sweets are distributed, and there is a general merry and feeling of good will.
Ah, sweets, did I say?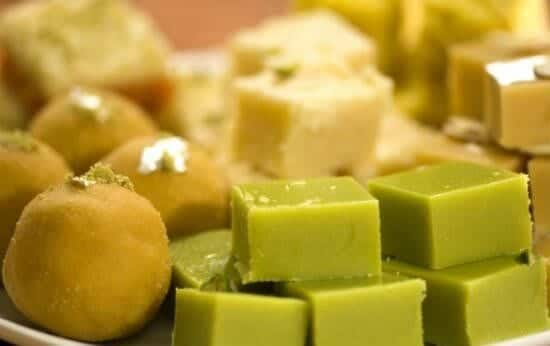 The three most common murukku varieties, the kai murukku, the ven murukku, the thengai pallu murukku are most popular in South India.
Some common North Indian ladoos are Besan ka ladoo, Tal Na Ladva, Motichoor ka ladoo and Coconut ladoo.
Rice Halwa, Mysore Pak, Gunjiya are a few sweets which can be whipped up in a jiffy. I would call them fast sweets.
Have you tasted Sukhandi recipe, Raj Kachori, Peanut Chikki, Gokul Pithe and Naan Khatai prepared the awesome way with tips from awesomecuisine? You should, if you have not already.
Festive pedas are a must do! Visit this link. You will not regret it. It is a popular among children and adults. It also forms a light snack on all days and the left overs can be stored.
These delectables in the shape of diyas are a rage among kids. They also are a grand way to celebrate differently. Check out Almond Diyas, Coconut Diyas, sesame diyas, fudgy diyas, sandesh diyas and Marbled diyas.
Seedai, Thenkuzhal, Thattai are the hit in South India. Almost all families would offer you these if you visit them on Diwali.
The most famous South Indian sweets prepared even a week before Diwali are Ribbon Pakoda, Adhirasam, common murukku, Kaju katli, Soan papdi, coconut barfi, gulab jamun and jelabi. These are prepared with great festive vigor. Extended families get together and share the same kitchen.
Dry fruit churva is the healthiest snack and best Diwali recipe I have ever encountered. Goody ways to get all that nutrition into your kid. Lol!
And end the festive season with Deepavali Legiyam. It solves most stomach ailments, indeigestion problems and helps digest all the above recipes.
Have fun this Diwali season. Be safe with crackers. Get the best discount with apparels. Remember the divinity within you. Party and most importantly have fun like we always like to do.