This fruit rightly called the King of fruits is a native to the Indian sub continent – originally from our very own South and
South East Asia. Even the name originated from Malayalam – manga. It is the national fruit of
India
,
Pakistan
and
Philippines
and the Mango tree is the national tree of
Bangladesh
. There are around 1000 varieties of mango from sweet to sour to spicy to suit every individual palette. And almost half the dishes in the world can be prepared either with a mango flavor or garnished with mango.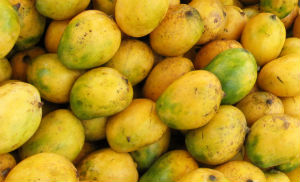 This week, we are going to feature this wonderful fruit, its benefits and those wonderful recipes from our site which you are dying to prepare.
Health Benefits
Mangoes are rich in vitamins like vitamin C and vitamin A. The vitamin C levels in a raw mango are higher than that found in a ripe mango. Mangoes also contain traces of vitamin E, vitamin B and Vitamin K. There are about 75 calories in a mango (100g of mango). Starch is present in a raw mango that is converted into sugar as the mango ripens. These sugars when consumed with milk (rich in proteins), that is, mango milkshake, are great for those beautiful petites who need to gain weight and look wholesome.
It is an excellent source of copper and potassium. Mangoes also contain traces of magnesium, manganese, selenium, calcium, iron and phosphorus. Mangoes contain no cholesterol or saturated fats. They have only about 0.6 g of total fat content.
Mangoes contain phenols, this phenolic compound have powerful antioxidant and anticancer abilities. Mango is high in iron, pregnant women and people with anemia are advised to eat this fruit regularly. Mango is effective in relieving clogged pores of the skin. It is also valuable to combat acidity and poor digestion. Mango is high in antioxidant and low in carbohydrates. Mango is a rich source of Selenium which helps to protect against heart disease and other ailments.
I don't think all that was necessary to convince you to eat mangoes, but well since now we know what all we consume when we bite into a ripened yellow mango, we can prepare and eat it with more zest and a clear conscience 😉
Recipes
You have hit the mouth drooling part of this page now. Typical of Indian style, lets start with the sweet dishes which can be prepared with Mango.
There is Sweet Mango Pongal, Sweet Mango Pachadi, Sweet Mango Rice, Sweet Mango Chutney, Mango Payasam, Mango halwa and Mango Barfi. All the sweets prepared from Mango found on your awesome cuisine site are listed here. I have not even mentioned those western style desserts here for which you have to scroll down to the latter paragraphs. But well, we always save the best for the last J
Now that the sweet buds are sated, let's tickle the hot and sour palettes.
There are at least a dozen varieties of pickles which can be prepared with mango like the Grated Mango Pickle, Sweet Mango Pickle, Punjabi Mango Pickle, Mango pickle from God's own country, the world famous avakkai pickle, the mango garlic thokku, No Oil Spicy mango pickle. Oh, the list is endless, I am done typing them out. There are at least a couple of types of mango pickle to suit everyone. Check out all the mango pickles from your favorite cuisine site here.
The sweets and pickles are done with. But what about the main and side dishes? Yes, there is mango rice, mango sambar, mango rasam, Mango Tofu Adai, Mango Seed Kuzhambu and Mango rice Pulao.
I can hear my mom coaxing me to write about healthy and nutritional recipes. I am sure those health freaks are waiting for that Mango Fruit Salad, Pineapple Mango Salad, Ripe Mango Curry, Mango-Onion-Cucumber Salad and Cold Mango Soup.
Now those desserts which I promised you earlier – to tickle those taste buds which love to end the meal with the flavor of mango on their tongue. Check out Creamy Mango for the chocolaty palette, Mango Lassi after that hot summer lunch, Mango Shrikhand for that sweet north Indian tongue, Mango Basundi for those milk lovers. Did you know, we even have a recipe Mango Cheesecake for your tiny toddler who loves cake?
An on the go drink – Mango mint cooler has been the rage on our site this hot summer. Don't forget to check it out.
This summer seasonal fruit, Mango is a craze for all aged people. Make this summer a memorable and interesting one. Kids and adults alike love mango treats.
My ten year old neighbor joked that the best place to eat a ripened sweet mango is in the bath tub with closed eyes and then wash away the drool and mango juice. So, don't disappoint your kids this summer.
I have saved the best for the last as always. The link for the entire mango recipe from our site is here. And it has already been posted a while ago in a different article here. Check them all out and come out with your own mango recipes too and write to us about them using this form. We love hearing about your trysts with the kitchen.
Live life king size with the king of fruits.