A simple and delicious jam that can be made at home with minimal ingredients.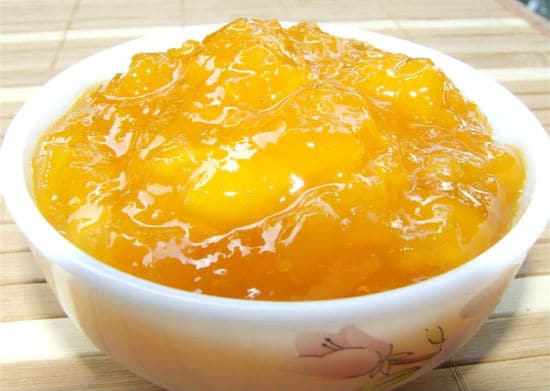 Ingredients:
Mangoes – 6, ripe
Sugar – 250 gms
Mango Essence – few drops
Kesari Food Colour – a pinch
Corn Flour – 1/2 tsp
Citric Acid – 1/4 tsp
Method:
1. Clean and wash the mangoes.
2. Squeeze the pulp into a bowl and keep aside.
3. Heat a heavy bottomed pan over medium flame.
4. Add the mango pulp, sugar, citric acid and food colour.
5. Simmer over low flame for a few minutes.
6. Mix the corn flour in a little water and add to the pan.
7. When the mixture starts to thicken, add the mango essence.
8. When a jam like consistency has been achived, switch off the flame and remove.
9. Cool and store in an air-tight container.
10. Use as desired.
image credit: ambrosiasoulfulcooking.blogspot.com