The sizzling Guntur Chicken recipe is a popular dish cooked in the Guntur district of Andhra Pradesh.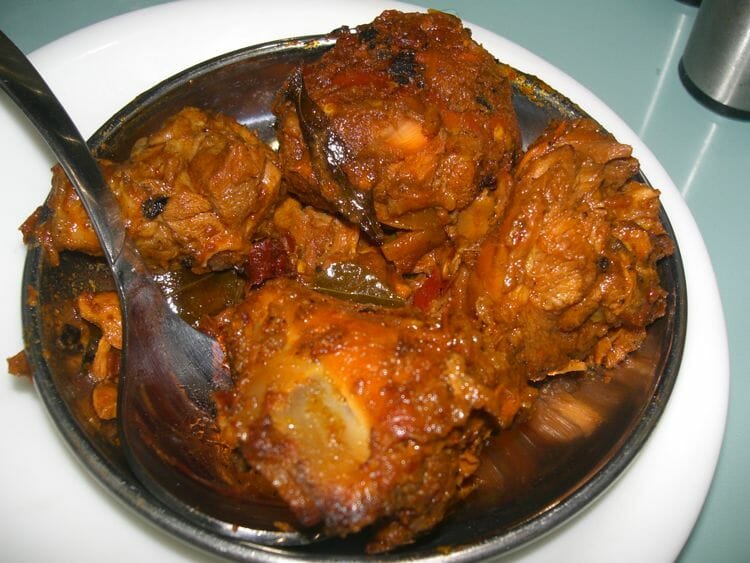 The sizzling Guntur Chicken recipe is a popular dish cooked in the Guntur district of Andhra Pradesh. Usually, the dishes of Andhra Pradesh have a royal touch to them thanks to the Nizams and Mughals who ruled the region for centuries. However, this is a typical desi chicken dish which might have originated from the kitchens of local farmers who grew rice in their fields and had to pair it up with something delicious and spicy.
The chicken stew is prepared by adding freshly ground spices along with the tender chicken pieces. It gets a spicy hot flavor from the red chilies that are specially grown in the region.
Guntur chicken can be cooked either in curry style or the excess stew can be dried up to prepare dry masala chicken. Ingredients like coriander powder, cinnamon sticks, cardamom, cumin, and peppercorn are used for preparing the garam masala while whole spices such as bay leaves, cardamom, cloves, and cinnamon sticks are used to add spicy flavor to the dish.
The residents of Guntur and surrounding regions are habitual of eating hot cuisines that can release spicy fumes from your ears especially if you are a North Indian. Therefore, you can cut down the number of red chilies in the recipe or add a little bit of jaggery to give it a slightly sweet flavor.
Ginger garlic paste, turmeric, and red chili powder are used to marinate the chicken pieces at least a couple of hours in the refrigerator before cooking. You can also add fresh lemon juice to the marinate mixture if you like a tinge of sour lemony taste to your chicken.
Serve it on a banana leaf to devour this traditional cuisine in typical Andhra style!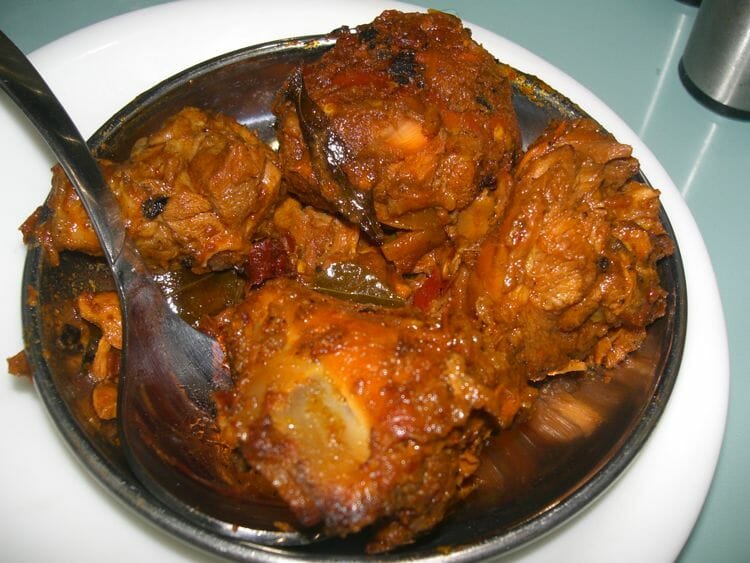 Guntur Chicken
The sizzling Guntur Chicken recipe is a popular dish cooked in the Guntur district of Andhra Pradesh.
Ingredients
500

g

Chicken

cleaned, washed, drained, chopped

5

nos

Dry Red Chillies

100

g

Onions

chopped

150

g

Tomatoes

chopped

1/2

tsp

Mustard Seeds

1

tsp

Peppercorns

1

tsp

Cumin Seeds

2

tsp

Curd

3

tsp

Coconut

grated

3

tsp

Coriander Seeds

3

tsp

Ginger Garlic Paste

4

tsp

Oil

1

no

Cardamom

1/2

inch

Cinnamon

1/8

tsp

Clove Powder

few

Fenugreek Seeds

few

Coconut pieces

few

Coriander Leaves

Garam Masala Powder

as per taste
Instructions
Dry roast the dry red chillies, coriander seeds, peppercorns, cumin seeds, mustard seeds, fenugreek seeds, clove powder, cinnamon, cardamom, grated coconut separately till golden.

Combine and grind them together with a little water to a fine paste.

Heat little oil in a large pan.

Saute the onions for a minute or two.

Add the ginger garlic paste and garam masala powder.

Stir well.

Add the tomatoes, salt, ground masala paste, curd and a little water.

Simmer for a few minutes and add the chicken.

Stir once or twice until chicken pieces are well coated with the masala.

Cover the pan with a lid and reduce flame to low.

Simmer for 20 to 30 minutes.

Keep stirring from time to time.

When the gravy turns thick and oil starts to float to the top, remove the pan from the flame.

Garnish with coriander leaves and chopped coconut pieces.

Serve with rice.

Notes
If you want the gravy to be dry, cook till all moisture has evaporated.
Frequently Asked Questions (FAQ)

Is Guntur Chicken extremely spicy?
Indeed, Guntur Chicken is known for its fiery flavour. The dish originates from Guntur, a city in Andhra Pradesh, India, famous for its spicy cuisine. The abundance of red and green chillies gives this dish its distinctive heat. However, the level of spiciness can be adjusted according to your preference. You're in for a treat if you enjoy bold flavours with a kick of heat. For those with a milder palate, reducing the number of chillies can still give you a flavorful experience without overwhelming heat.
Can I use boneless chicken for Guntur Chicken?
Absolutely! While traditional Guntur Chicken recipes often use bone-in chicken for enhanced flavour, you can use boneless chicken too. The boneless chicken absorbs the spicy marinade well, resulting in a delicious dish. Ensure not to overcook the boneless chicken to keep it tender and juicy. This adaptation can make the dish easier to eat and save prep time.
What are some suitable accompaniments for Guntur Chicken?
Guntur Chicken pairs wonderfully with various Indian bread like naan, roti, or paratha. The bread's mildness complements the dish's spiciness, creating a balanced bite. Additionally, serving it with steamed rice or flavoured biryani can be a delightful combination, as the rice helps mellow the heat. Also, consider serving cooling side dishes like cucumber raita or mint chutney to provide a refreshing contrast to the bold flavours of Guntur Chicken.