Light and nutritious, this is a perfect soup for anyone.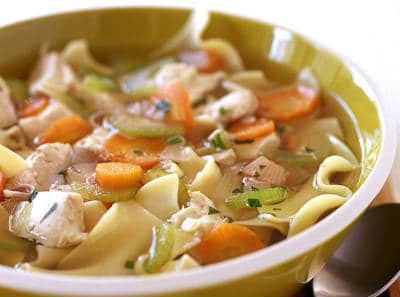 Ingredients:
Chicken Stock – 750 ml
Chicken – 225 gms, boneless, chopped
Water – 1 1/2 cups
Carrot – 1/2 cup, sliced (optional)
Garlic – 6 cloves, finely chopped
Lemongrass – 1 stalk, minced (tender inner part of bottom third only)
Egg – 1, medium
Soy Sauce – 1/2 tblsp
Garlic Powder – 1/2 tsp
Cornstarch – 2 tsp
Sugar – 1/4 tblsp
Coriander Leaves – handful, chopped, for garnish
Salt as per taste
Black Pepper Powder as per taste
Method:
1. Pour the chicken stock and water into a pot and place it over medium flame.
2. Bring to a boil.
3. Add the garlic, lemongrass, soy sauce, 1/4tsp salt, sugar, pepper powder, garlic powder and cornstarch in a bowl.
4. Break the egg and whisk well.
5. Add the chicken and carrot to the pot. Simmer until tender.
6. Add the egg mixture and stir well.
7. Simmer for a 2 to 4 minutes and remove.
8. Adjust seasoning and garnish with coriander leaves.
9. Serve.