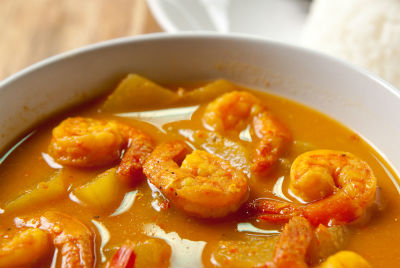 Ingredients:
Prawns – 250 gms, peeled, deveined, washed, cleaned
Mustard Oil – 1/2 tblsp + 1/2 tblsp
Panch Phoran – 3/4 tsp (equal quantities of cumin seeds, mustard seeds, fenugreek seeds, nigella seeds and fennel seeds, ground together)
Cinnamon – 1/4 inch stick
Green Cardamom – 2
Cloves – 2
Bay Leaf – 1/2
Onion – 1, small, finely chopped
Ginger Garlic Paste – 2 tsp
Coriander Powder – 1/2 tsp
Red Chilli Powder – 1/2 tsp
Turmeric Powder – 1/4 tsp
Tomato – 1, small, finely chopped
Salt – 1/4 tsp
Sugar – 1/4 tsp
Lime Juice – 2 tsp
Coriander Leaves – 2 tsp, chopped
For the marinade:
Turmeric Powder – 1/4 tsp
Red Chilli Powder – 1/4 tsp
Salt – 1/3 tsp
Oil – 1 tsp
Method:
1. Combine all the marinade ingredients in a large bowl.
2. Add the prawns and mix well until evenly coated.
3. Cover and keep aside for 30 minutes.
4. Heat 1/2 tblsp of mustard oil in a non-stick frying pan.
5. Fry the marinated prawns till browned all over and 3/4th cooked.
6. Switch off the flame and keep the prawns aside.
7. Heat 1/2 tblsp of oil in a different pan.
8. Add the panch poran, cinnamon, cardamom, cloves, bay leaf and saute well.
9. Add the onions and saute till soft.
10. Add the ginger garlic paste and fry for 1 minute.
11. Add the coriander powde, red chilli powder, turmeric powder and stir to mix well.
12. Add a little water and stir again.
13. Add the tomatoes and cook till it softens a bit.
14. Now pour 2 cups of water and mix well.
15. Simmer till the oil starts to rise to the top, about 5 to 10 minutes.
16. Add salt, sugar and prawns.
17. Cook for another 5 to 10 minutes until the curry is reduced a little and prawns are tender.
18. Switch off the flame, add lime juice and garnish with coriander leaves.
19. Serve hot with rice.
image credit: mummypages.ie