A crispy chicken pakora ideal for any occasion. Serve as a snack or as a starter.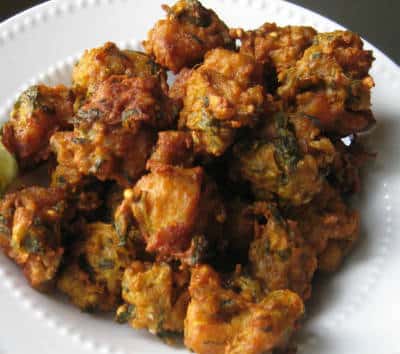 Ingredients:
Chicken – 225 gms, skinless, boneless, chopped into small pieces
Gram Flour – 1/4 cup
Water – 1/4 cup
Garam Masala Powder – 1/4 tsp
Turmeric Powder – 1/4 tsp
Soy Sauce – 1 tsp
Oil as required
Salt as per taste
Red Chilli Powder as per taste
Method:
1. Heat a little oil in nonstick pan over medium flame.
2. Stir-fry the chicken pieces until lightly browned and remove.
3. Add the gram flour to a bowl.
4. Add salt, red chilli powder, garam masala powder, turmeric powder, soy sauce and water.
5. Mix well to a thick pastte.
6. Heat oil in a deep frying pan.
7. Dip the chicken pieces in the batter and add them to the hot oil.
8. Deep fry until golden brown.
9. Remove and drain excess oil.
10. Serve with mint chutney and sliced onions.