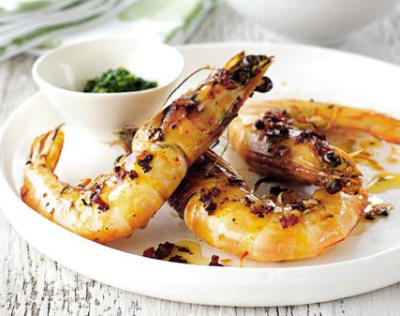 Ingredients:
Prawns – 250 gms, peeled, heads and tails left intact
Olive Oil – 2 1/2 tblsp
Coriander Leaves – 2 tblsp + 1 tsp
Parsley Leaves – 2 tblsp
Juice and Zest of 1/2 Lemon
Green or Red Chillies – 4
Garlic – 2, coarsely chopped
Ginger – 3/4 inch piece, coarsely chopped
Lemon Wedges
Wooden Skewers – soaked in water for 30 minutes
Method:
1. Combine the oil, 2 tblsp coriander leaves, parsley, lemon juice and zest, chillies, ginger and garlic in a blender.
2. Blend to a smooth paste.
3. Add 1/2 of the paste to a bowl and add the prawns.
4. Gently mix well and marinate for 30 to 45 minutes.
5. Skewer the prawns and cook on a preheated grill for 2 minutes on each side.
6. Brush with the remaining paste and cook until done.
7. Remove and transfer to a plate.
8. Garnish with coriander leaves.
9. Serve with the lemon wedges on the side and any remaining paste in a cup.
image credit: BBC Good Food
Subscribe to our Newsletter
Receive the latest recipes & kitchen tips !