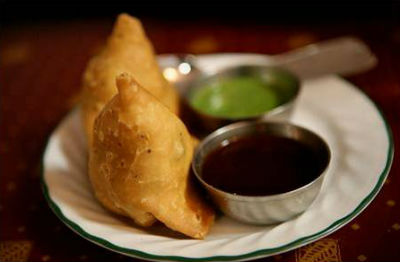 Ingredients:
Lamb Mince – 125 gms
Green Chillies – 2, small, finely chopped
Onions – 2, finely sliced
Oil – 1 tblsp + 1 cup for frying
Turmeric Powder – 1/2 tsp
Red Chilli Powder – 1/2 tsp
Cumin Seeds – 1/2 tsp, crushed
Lemon Juice – 2 to 3 tsp
Coriander Leaves – 1 tblsp, finely chopped
Garam Masala Powder – 1/2 tsp
For the dough:
Maida – 2 cups
Oil – 2 tblsp
Water – 4 to 5 tblsp
Baking Soda – 1/2 tsp
Method:
1. Mix the dough ingredients in a bowl.
2. Knead well and cover with a wet towel.
3. Keep aside for an hour.
4. Heat 1 tblsp oil in a pan.
5. Fry the onions and green chillies till onions are golden brown.
6. Add the lamb mince and fry till golden brown.
7. Add salt, turmeric powder, red chilli powder and cumin seeds.
8. Cook for a few minutes till all water has been absorbed.
9. Add lemon juice, garam masala powder and coriander leaves.
10. Stir and mix well.
11. Keep aside.
12. Make small balls of the dough and roll them into small circles or squares.
13. Place a spoonful of the lamb mince in the middle.
14. Close and seal the edges. Shape them into a triange.
15. Heat oil for frying in a large pan.
16. Fry the prepared samosas for a minute or two, until golden and crisp.
17. Remove and drain excess oil.
18. Serve with mint chutney and sweet chutney.