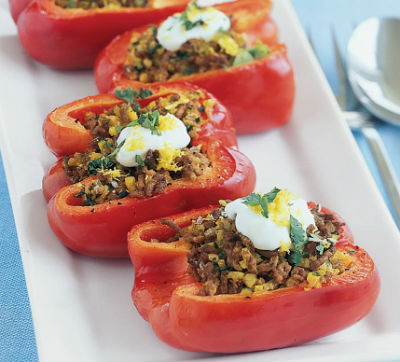 Ingredients:
Capsicums – 3 to 4, red, yellow or green
Onion – 1, small, finely chopped
Garlic – 2 cloves, minced
Red Chillies – 2, small, seeded, finely chopped
Dried Oregano – 1/2 tblsp
Dried Thyme – 1/2 tblsp
Lemon Zest – 1/2 tblsp, grated
Brinjal – 2 cups, finely chopped
Tomatoes – 1 cup, finely chopped
Avarakkai (Broad Beans) – 1/2 cup, finely chopped
Mint Leaves – handful, chopped
Olive Oil – 1 tblsp
Salt as per taste
Pepper Powder as per taste
Method:
1. Heat oil in a large pan.
2. Saute the onions and garlic for a minute or two.
3. Add the red chillies, oregano, thyme and lemon zest.
4. Stir well.
5. Add brinjals and cook for 5 minutes or until soft and lightly browned.
6. Add salt and pepper.
7. Add the tomatoes, beans and little water.
8. Increase flame to high and bring to a boil.
9. Reduce heat to medium and gently simmer for another 15 minutes or until the water has reduced by half. Add mint leaves and stir well.
10. Cut the top of the capsicums and reserve. Discard the seeds.
11. Place it on a baking dish and spoon the vegetable mixture into the capsicums.
12. Place the reserved capsicum top and bake in a preheated oven at 425F for 25 to 30 minutes.
13. Remove and serve hot or at room temperature.
14. You can also cut the capsicum in half. But be careful not to spill the filling.
Note: image is for illustration purposes only and not that of the actual recipe.
Image credit: taste.com.au.