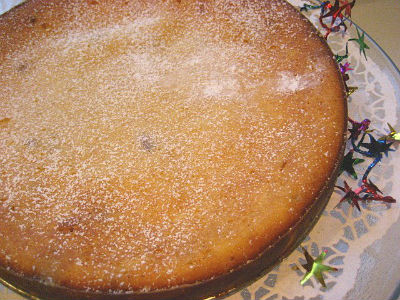 Ingredients:
Butter – 100 gms, unsalted, softened
Caster Sugar – 50 gms
Egg – 1, small
Maida – 1 cup

For the filling
Almond Flour – 40 to 50 gms
Eggs – 2, small
Sugar – 1/4 cup
Cream Cheese (Amul Cheese) – 175 gms
Ricotta Cheese – 325 gms
Cream – 40 ml
Citrus Peel – 40 gms, candied, diced
Raisins – 50 gms, soaked overnight
Icing Sugar
Method:
1. Combine the butter and sugar in a bowl.
2. Beat until pale.
3. Add the egg and beat well.
4. Now add the flour and beat again till well combined.
5. The pastry dough should be very sticky.
6. Roll out the dough on a floured surface.
7. Place a medium cake tin over the pastry and cut around to make a circle that will fit into the base.
8. Transfer the circle onto a baking tray lined with parchment paper.
9. Bake the pastry for 12 minutes on a preheated oven at 180C until golden.
10. Remove and cool.
11. Meanwhile, lightly toast the almond flour and keep aside.
12. Butter the cake tin and lay the baked circle into the base.
13. Use fresh pastry and press into the sides of the tin and seal all edges.
14. Beat the eggs with half of the sugar until frothy.
15. Beat the cheese and remining sugar until smooth.
16. Add the ricotta cheese and beat until smooth.
17. Add cream and gently add the eggs.
18. Continue to beat and add the almond flour, orange peel and raisins.
19. Transfer this to the cake tin and place it in the oven.
20. Bake for 60 minutes and remove to cool.
21. Remove from the tin.
22. Sprinkle some icing sugar on top.
23. Serve.
image credit: staceysnacksonline.com