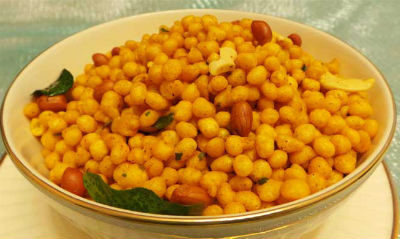 Ingredients:
Gram Flour – 2 cups
Rice Flour – 1 cup
Edible Food Colours – as per choice, as required
Peanuts – 1/2 cup
Cashewnuts – 1 tsp
Curry Leaves – a bunch, fried
Red Chilli Powder – 2 tsp
Oil as required
Salt as per taste
Method:
1. Mix gram flour and rice flour together.
2. Split this into 3 portions and add desired food colour to each.
3. Add little water to each and mix well to a bajji batter consistency.
4. Heat oil in a pan.
5. Using a boondi maker, make small boondis into the hot oil.
6. Fry well and remove to a broad plate.
7. Add peanuts and cashewnuts.
8. Add curry leaves, salt, red chilli powder and mix well.
9. Serve.
Tip: Divide the dough into as many portions as you want depending on the number of colours you would like.
Note: image is for illustration purposes only and not that of the actual recipe.