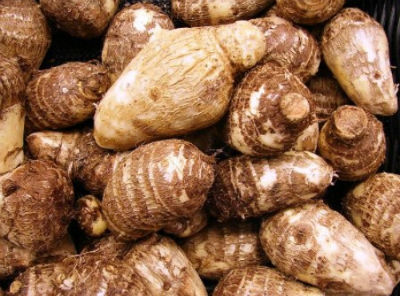 Ingredients:
Seppankizhangu (Colocasia) – 500 gms
Onion – 2, chopped
Green Chillies – 2, chopped
Coriander Leaves – handful, chopped
Gasa Gasa – 3 tsp
Saunf – 1 tsp
Cashewnuts – 10
Red Chilli Powder – 1 tsp
Garam Masala Powder – 1 tsp
Ginger Garlic Paste – 1 tsp
Oil as required
Salt as per taste
Method:
1. Pressure cook the seppankizhangu and peel.
2. Cut lengthwise and keep aside.
3. Heat oil in a pan.
4. Add the sliced seppankizhangu pieces and fry till golden.
5. Add salt and chilli powder. Mix well and keep aside.
6. In a separate pan, dry roast the gasa gasa, saunf and cashewnuts.
7. Grind them to a powder.
8. Grind together the onions, green chillies and coriander leaves.
9. Heat a little bit more oil in a pan.
10. Add the ground onion paste and stir-fry for 45 seconds.
11. Add the ginger garlic paste, gasa gasa powder, garam masala powder and a little water if desired.
12. Stir well.
13. Add the reserved seppankizhangu pieces and cook, stirring from time to time, 2 to 3 minutes.
14. Transfer to a serving dish.
15. Serve hot with rice.