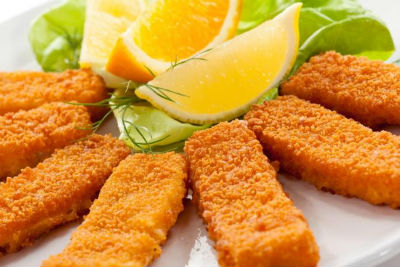 Ingredients:
White Fish Fillets – 2, skinless, cut into 1/2 inch thick strips, washed, cleaned
Juice of 1 Lemon
Coriander Powder – 1/4 tbslp
Maida – 1/2 cup
Water – 150 ml
Ginger – 1 one inch piece, peeled, minced
Garlic – 1/2 tblsp, minced
Cumin Seeds – 1/2 tsp
Red Chilli Powder – 1/2 tsp
Mint Leaves – 1 tblsp
Salt as per taste
Lemon Wedges
Oil as required

Method:
1. Mix lemon juice, 1/4 tsp salt and coriander powder in a bowl.
2. Marinate the fish strips in this for an hour or two in the fridge.
3. Remove the fish from the marinade and keep aside to remove excess marinade.
4. Mix maida and water in a bowl till smooth.
5. Add ginger, garlic, cumin seeds, red chilli powder and chopped mint leaves.
6. Heat oil in a deep frying pan over medium flame.
7. Dip the marinated fish fillets into the flour mixture and coat evenly. Then put it into the hot oil.
8. Deep fry until golden brown and crisp, about 5 to 6 minutes.
9. Remove and drain excess oil.
10. Serve hot with lemon wedges.