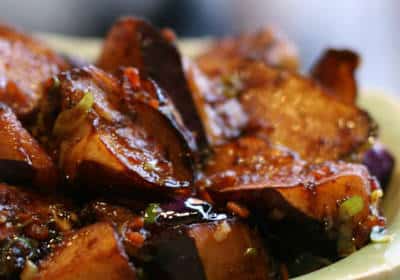 Ingredients:
Brinjal (Eggplant) – 2, small, chopped
Onion – 1, medium, sliced
Garlic – 1 clove, finely sliced
Red Chilli – 1 tsp, finely chopped
Coriander Leaves – few, chopped
Oil – 2 tblsp
Salt as per taste
For the sauce:
Red Wine Vinegar – 1 tblsp
Caster Sugar – 2 tsp
Cornflour – 1/2 tblsp
Water – 1 tblsp
Method:
1. Mix all the sauce ingredients in a bowl and keep aside.
2. Heat 1 tblsp oil in a pan over medium flame.
3. Add the brinjals and a small pinch of salt.
4. Cook for 10 minutes or until soft.
5. Remove and keep aside warm.
6. Add the remaining oil to the pan.
7. Stir-fry the onions, red chillies and garlic for 2 to 3 minutes.
8. Add the brinajsl and the sauce.
9. Mix well and reduce flame to low.
10. Cover the pan with a lid and cook for a minute or two.
11. Remove the lid and stir-fry for a minute.
12. Garnish with coriander leaves.
13. Serve with cooked rice.
image via Tropika on Robson