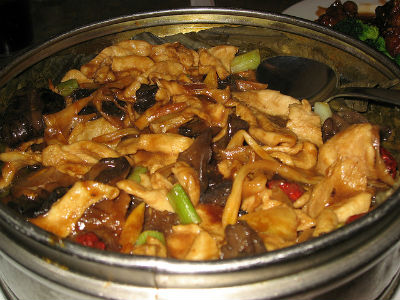 Ingredients:
Chicken – 600 gms, cut into bite-sized pieces
Black Chinese Mushrooms – 4, dried, soaked in hot water, stems discarded
Ginger Extract – 1 tsp
Spring Onions – 1 tblsp, sliced
Chinese Rice Wine – 1 tblsp
Soy Sauce – 1/2 tblsp
Oyster Sauce – 1/2 tblsp
Sesame Oil – 1/2 tsp
Sugar – 1/2 tsp
White Pepper Powder – 1/2 tsp
Salt as per taste
Method:
1. Combine the ginger juice, chinese rice wine, soy sauce, oyster sauce, sesame oil, sugar, white pepper powder and salt in a bowl.
2. Add the chicken and mushrooms.
3. Mix well to coat the chicken and mushrooms properly
4. Cover and keep aside in a fridge for 1 hour.
5. Heat a deep pan half-filled with water.
6. Place the bowl on a rack in the pan and steam cook for 30 minutes until chicken is cooked, adding more hot water every 10 minutes.
7. Remove and transfer to a serving plate.
8. Garnish with spring onions.
9. Serve hot with rice.
image credit: https://www.flickr.com/photos/monkeyone/2189799444/