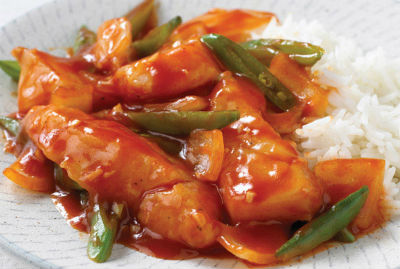 Ingredients:
Fish Fillets – 500 gms, cubed (Pomfret)
Onion – 1, medium, finely chopped
Rice Flour – 1/2 tblsp
Cumin Powder – 1/2 tsp
Garlic – 4 cloves, finely chopped
Green Chillies – 4, seeded, chopped
Oil – 1 tblsp
Water – 1 cup
Eggs – 2, small, beaten
Sugar – 1/2 tsp
Vinegar – 1/4 cup
Coriander Leaves – 2 tblsp, finely chopped
Salt as per taste

Method:
1. Heat oil in a pan over moderate flame.
2. Fry the onions till light brown.
3. Now add the rice flour and cook for a minute or two.
4. Add cumin powder, garlic, green chillies and mix well.
5. Add salt and water.
6. Bring the mixture to a boil.
7. Add the fist fillets and simmer till almost cooked.
8. Remove and keep aside.
9. In a small bowl, combine the eggs with sugar and vinegar.
10. Whisk well and pour into the pan.
11. Gently stir without breaking the fish.
12. Keep the pan over moderate flame and simmer till gravy thickens.
13. Garnish with coriander leaves.
14. Serve hot with rice.
Note: image is for illustration purposes only and not that of the actual recipe.