Butter Chicken is one of the most popular Indian chicken dishes.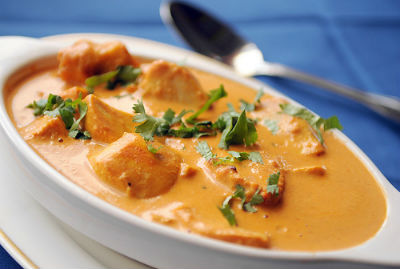 Ingredients:
Chicken Breasts – 2, boneless, skinless, cut into bite sized pieces
Butter – 2 tblsp
Onion – 1, small, chopped
Cumin Powder – 3/4 tsp
Turmeric Powder – 1/2 tsp
Curry Powder – 1/2 tsp
Coriander Powder – 1/2 tsp
Tomato Puree – 1 cup
Tomato Ketchup – 1/2 tsp
Chicken Stock – 1/4 cup
Thick Cream – 1/4 cup
Garam Masala Powder – 1 tsp
Olive Oil as required
Salt as per taste
Method:
1. Heat butter in a pan over medium flame.
2. Saute the onions until light brown.
3. Add cumin powder, turmeric powder, curry powder and coriander powder.
4. Cook for 30 seconds.
5. Add the tomato puree, ketchup and chicken stock.
6. Simmer until slightly thickened over low flame.
7. Remove from flame and add the cream.
8. Keep aside in a warm place.
9. Combine the chicken, garam masala powder and 1/2 tsp olive oil in a resealable bag.
10. Shake well.
11. Heat little oil in a frying pan.
12. Fry the chicken until lightly browned and cooked.
13. Add the reserved sauce and stir well. Season with salt.
14. Simmer for a minute and remove.
15. Serve hot with cooked rice, roti or naan.
Subscribe to our Newsletter
Receive the latest recipes & kitchen tips !