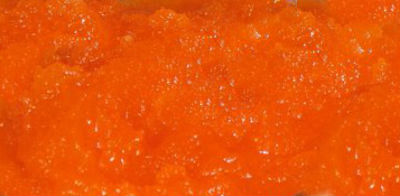 Ingredients:
Pumpkin – 500 gms, peeled, washed, cleaned, grated
Ghee – 200 gms
Sugar – 300 gms
Condensed Milk – a small cup (or Unsweetened Khoya – 200 gms)
Cardamom Powder – 1 tsp
Cashewnuts – 2 tblsp, broken, fried in little ghee
Kesari Powder – 1/4 tsp
Water as required
Method:
1. Heat little ghee in a pan over medium flame.
2. Saute the pumpkin for 2 to 3 minutes.
3. Remove and grind the pumpkin to a smooth or coarse (as desired) paste.
4. Heat little ghee in the pan.
5. Add the ground pumpkin and sugar.
6. Gently add the remaining ghee, stirring all the time.
7. Add the condensed milk. If using khoya, mix it with 1 1/2 cups of water and add.
8. Add kesari powder, cashewnuts, cardamom powder and mix well.
9. When it starts to leave the sides of the pan transfer it to a greased plate.
10. Keep aside to cool.
11. Before it cools completely, slice it into desired shapes.
12. Store in an airtight container.
13. Serve.