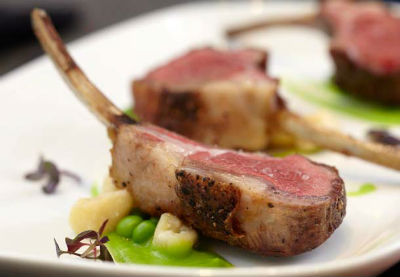 Ingredients:
Lamb Chops – 8
Butter for basting – melted
Marinade #1
Raw Papaya Paste – as required
Ginger Garlic Paste – 1/2 tblsp
Red Chilli Paste – 1/2 tblsp
Ginger Extract – 3/4 tblsp
Vinegar – 1 tsp
Oil – 1 tsp
Salt as per taste
Marinade #2
Hung Yogurt – 1/2 cup, whisked
Ginger Garlic Paste – 1/2 tblsp
Ginger Extract – 2 tblsp
Ginger – 1 1/4 tblsp, chopped
Garam Masala Powder – 1/2 tblsp
Yellow Chilli Powder – 1 1/2 tsp
Oil – 3 tsp
Salt as per taste
Method:
1. Combine all the marinade #1 ingredients and apply on the lamb chops.
2. Marinate the chops for 3 hours.
3. Then marinate the lamb in marinade #2 for 3 hours.
4. Then skewer the lamb chops and roast over a grill for 10 to 12 minutes.
5. Remove and let the extra moisture drain off completely.
6. Baste with melted butter and roast again for 5 minutes.
7. Remove the chops from the skewer and serve hot.
Note: image is for illustration purposes only and not that of the actual recipe.