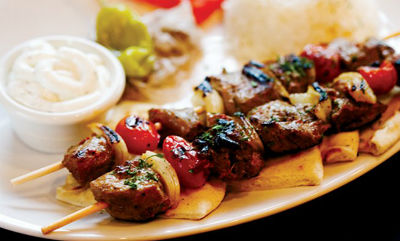 Ingredients:
Lamb Chops – 450 gms
Red Chilli Powder – 1 tsp
Garam Masala Powder – 2 tsp
Vinegar – 1/3 cup
Ginger Garlic Paste – 3 tblsp
Raw Papaya Paste – 2 tsp
Black Cumin Seeds – 1 1/2 tblsp
Yogurt – 1/8 cup
Oil for basting
Salt as per taste
To serve:
Onion rings
Lemon wedges
Method:
1. Combine all the ingredients except lamb and oil and mix well.
2. Rub into the lamb and keep aside to marinate for 8 hours.
3. Skewer the lamb pieces and roast in a tandoor or grill till half done.
4. Remove and keep aside for 10 minutes.
5. Baste with oil and grill again for 15 to 20 minutes.
6. Remove the lamb pieces from the skewer.
7. Serve hot with onion rings and lemon wedges.