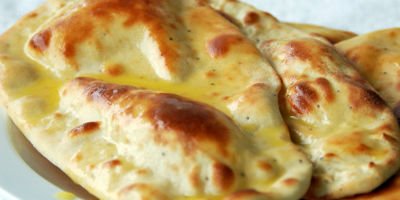 Ingredients:
Wheat Flour – 1 cup
Ghee – 1/2 tblsp
Salt as per taste
For the filling:
Chicken – 125 gms, minced
Oil – 1 tblsp
Onion – 1, small, finely chopped
Ginger – 1 tsp, finely chopped
Garam Masala Powder – 1/4 tsp
Coriander Powder – 1/2 tsp
Red Chilli Powder – 1/4 tsp
Green Chillies – 2, small, chopped
Coriander Leaves – 1/2 tblsp, finely chopped
Fenugreek Leaves – 1/2 tblsp, chopped
Salt as per taste
Method:
1. Sift the wheat flour with salt and add ghee.
2. Add enough water and knead well to make a pliable dough.
3. Keep aside for 15 to 30 minutes.
4. Heat oil in a pan over moderate flame.
5. Stir-fry the onions until brown.
6. Add chicken and chopped ginger.
7. Cook for 2 to 3 minutes.
8. Add salt, coriander powder, chilli powder and garam masala powder.
9. Fry for a minute and cover the pan with a lid.
10. Reduce flame and cook for 3 to 5 minutes till cooked.
11. Add coriander leaves and green chillies.
12. Once dry, keep the filling aside.
13. Divide the dough into equal parts and make balls.
14. Flatten and roll out each into rounds.
15. Spread little ghee and add 1 to 2 tblsp of the filling all over.
16. Spread well and sprinkle little flour.
17. Make a slit from the centre and roll to form an even cone.
18. Keep the cone upright and press.
19. Roll out the cone pressing the centre.
20. Sprinkle fenugreek leaves and place the paratha in a greased tray.
21. Place the tray in a preheated oven and remove after few minutes.
22. Brush with ghee and serve.
Tip: Do not roll or apply too much pressure on the sides at step 19, otherwise the paratha layers will not separate.
Note: image is for illustration purposes only and not that of the actual recipe.