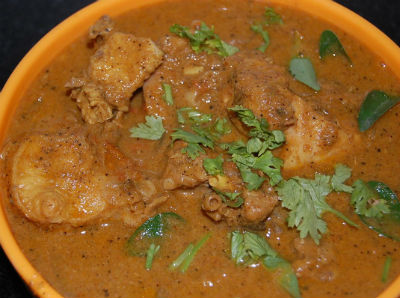 Ingredients:
Chicken – 400 gms, cut into medium size pieces
Juice of 1/2 Lemon
Red Chilli Powder – 1/4 tsp
Salt as per taste
For the marinade:
Hung Curd – 1/2 cup
Cream – 1 tblsp
Ginger Garlic Paste – 1 tblsp
Fenugreek Leaves – 1/2 tblsp,
Black Salt – 1/4 tsp
Garam Masala Powder – 1/2 tsp
Orange Red Food Colour – few drops
For the gravy:
Butter – 1 tblsp
Oil – 2 tblsp
Bay Leaf – 1/2
Ginger Garlic Paste – 1 tblsp
Tomato Puree – 1 cup
Cashewnuts – 2 tblsp, soaked in hot water, drained and ground to a paste
Kashmiri Red Chilli Powder  1/8 tsp
Milk – 1/2 cup
Cream – 1 tblsp
Garam Masala Powder – 1/4 tsp
Tandoori Masala Powder – 1/2 tsp
Sugar – as per taste
Method:
1. Combine lemon juice, salt and chilli powder in a bowl.
2. Apply this on the chicken pieces and keep aside to marinate for 30 minutes.
3. In another bowl, combine all the marinade ingredients and apply this on the chicken.
4. Keep aside for 2 hours in the fridge.
5. Grill the chicken pieces in a preheated oven for 10 to 15 minutes. Place a tray underneath to collect any drippings.
6. Baste with oil and turn them.
7. Grill for another 10 to 15 minutes, till well cooked and dry.
8. Meanwhile, heat a pan over moderate flame.
9. Add butter and oil together.
10. Add bay leaf and stir.
11. Add ginger garlic paste and cook till it starts to change colour.
12. Add the tomato puree, red chilli powder and sugar.
13. Cook till the puree turns dry.
14. Add the cashew paste and stir on low flame.
15. Add 1/2 cup of water or more to make a gravy.
16. Bring to a boil, stirring all the time.
17. Add the chicken pieces and salt to taste.
18. Cover the pan with a lid and simmer for 3 to 4 minutes or till the gravy turns bright.
19. Reduce flame and add milk on very low flame.
20. Bring to a boil.
21. Stir for a minute and remove.
22. Add cream and stir well.
23. Add garam masala powder and tandoori masala powder.
24. Stir again to blend well.
25. Garnish with cream.
26. Serve hot.
Note: image is for illustration purposes only and not that of the actual recipe.