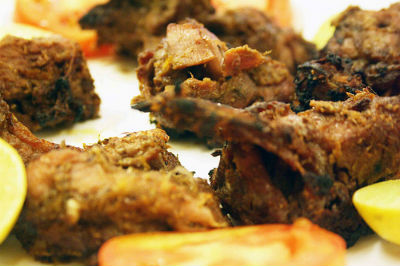 Ingredients:
Mutton – 250 gms, cut into small bite-sized pieces
For marinade #1
Ginger Garlic Paste – 1 tsp
Raw Papaya – 1/2 tblsp, chopped
Mustard Oil – 2 tblsp
Cumin Powder – 1/4 tsp
Nutmeg Powder – a small pinch
Cardamom Powder – a small pinch
Turmeric Powder – a pinch
Cinnamon Powder – 1/8 tsp
Cardamom Powder – 1/4 tsp
Salt – 1/4 tsp
Black Pepper Powder – 1/2 tsp
Asafoetida Powder – a small pinch

For marinade #2:
Hung Curd – 1 cup
Paneer – 1/4 cup, crumbled
Malt Vinegar – 1 tbslp
Besan Flour – 2 tblsp
Mustard Oil – 2 tblsp
Kashmiri Red Chilli Powder – 3/4 tsp
Cinnamon Powder – 1/8 tsp
Cardamom Powder – 1/4 tsp
Turmeric Powder – 1/8 tsp
Red Food Colour – 1/8 tsp
Black Salt – a pinch
Garam Masala Powder – 1/8 tsp
Fenugreek Leaves – 1/2 tblsp
Dry Pomegranate Seeds – 1/2 tsp, crushed
Chaat Masala – 1/4 tsp
Method:
1. Heat oil in a pan and roast the besan for 3 minutes on low flame.
2. Remove and keep aside.
3. Prick the mutton pieces with a fork.
4. Combine and mix the marinade #1 ingredients in a bowl.
5. Add the mutton pieces and mix well.
6. Keep aside for 8 hours.
7. Meanwhile, mix the paneer and yogurt thoroughly till smooth.
8. Add all the marinade #2 ingredients and combine till smooth.
9. Now add the marinated mutton pieces and mix well.
10. Keep aside to marinate for another 8 hours.
11. Place the marinated mutton pieces on a greased baking tray lined with foil.
11. Baste with any remaining marinade and cook for 12 to 18 minutes in a preheated oven at 150C till well browned.
12. Serve hot.